Inclusivity is becoming essential for several businesses, both in the workplace and your marketing and design. A key trend shaping the scope of design in 2023 is incorporating inclusive design heavily into the design process.
But what exactly is inclusive design? What does it entail? And how can you make your digital experiences inclusive? In this article, we'll answer these questions and give tips on incorporating inclusivity into your design process for 2023.
What Is Inclusive Design?
Inclusive design refers to the process of creating design solutions that deliver the best possible experience for as many users as possible – regardless of their viewpoints, abilities, culture, experiences, age, gender, language, or situations.
The above factors significantly impact how users interact with any product. For instance, imagine a global company that has an English-only website. This website excludes anyone who doesn't understand English, despite being an international website. Inclusive design, in this case, would involve making the website multilingual to allow everyone to view its content in a language they understand.
Another example of inclusive design is using captions in your video. The captions ensure that hearing-impaired people can still watch the video. For example, YouTube allows users to turn on closed captions on all videos, making it easier for the hearing-impaired or people in noisy environments to understand the video content.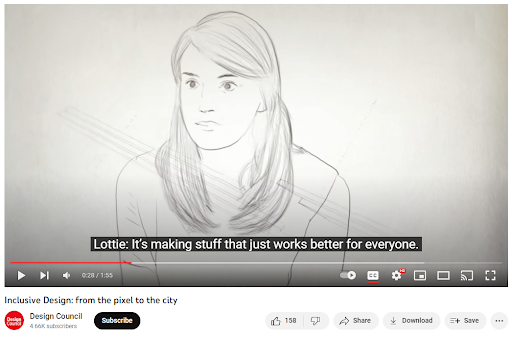 YouTube adds closed captions to its videos to make them more inclusive. Source: YouTube
Inclusive Design vs. Accessible Design
The terms inclusive design and accessible design tend to be used interchangeably, but they mean slightly different things. Accessible design is about making it easy for people to use, experience, or interact with a product. It focuses mainly on designing products without any barriers, especially for people with disabilities.
For instance,  Twitter added an image description option that helps the visually impaired read images embedded in tweets. This is an example of accessible design since it eliminates the barriers visually impaired people face when using the platform.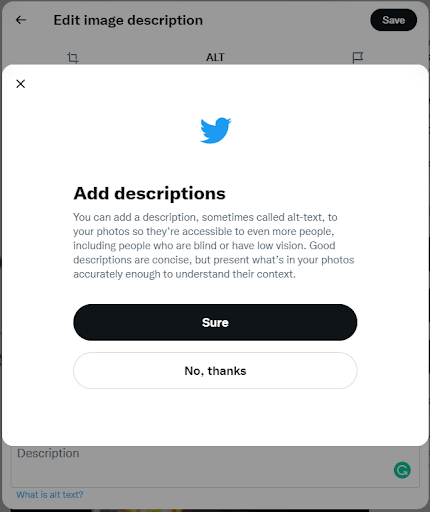 Twitter reminds you to add a description when tweeting images to make them more inclusive.
Inclusive design, on the other hand, focuses on creating products that accommodate all people despite their differences. It's not just about access. It's about making everyone feel welcome and comfortable. We can therefore say that accessible design is a subset of inclusive design.
An example of inclusive design is using racially diverse images in your design. For instance, GetWeave embraces inclusivity by using photos of people from different races on its website.
Another example is not limiting the choices to "male" and "female" in situations where people need to choose their gender. In these examples, there are no literal barriers preventing these people from experiencing or interacting with a product or service. However, they still make the product more accommodating. For example, when signing up for a Gmail account, Google lets you choose between "male," "female," "custom," and "rather not say" in the gender option. This doesn't improve accessibility, but it enhances inclusivity.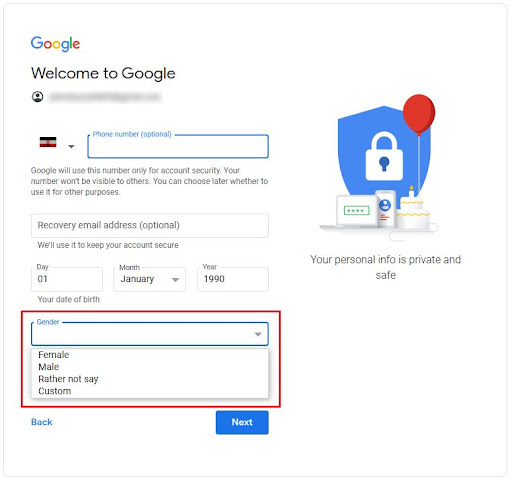 How to Incorporate Inclusivity in Your Design Process
Below, let's look at five tips on how to make your design process more inclusive.
1. Recognize Areas of Exclusion
Making a product inclusive is only possible when you are aware of the factors that could create exclusion. Therefore, the first step of inclusive design is to consider the differences between the people who will use your product, then identify how these differences could create areas of exclusion.
Some factors you need to consider include age, gender, language, ethnicity, race, culture, cognitive ability, physical ability, and so on. Ask yourself how these factors affect a user's ability to use or experience your product.
For instance, does your chosen color palette communicate the same thing to people from different cultures? How does your design affect people with dyslexia? Do older people use your product the same way as younger users?
Areas of exclusion aren't limited to personal differences. Even situational differences can create areas of exclusion. For instance, if someone is using your mobile app while out in the sun, they might not be able to see the app's text or icons clearly.
Therefore, you might need to provide an option for adjusting their screen contrast to ensure they still see the app clearly even in the sun. For example, Amazon's Kindle devices use e-ink technology and non-reflective screens to allow readers to read comfortably in the sun.
Think about all the different situations where someone might use your product and consider how they might affect a user's interaction with the product.
2. Question Your Assumptions
Very often, designers work based on assumptions about their target audience. Unfortunately, these assumptions could be biased, outdated, or wrong. Designing a product based on such assumptions will undoubtedly create areas of exclusion.
To avoid this, do away with your assumptions and talk directly with your target audience. Conduct thorough research and customer interviews to better understand how real users interact with your product.
3. Get External Views to Avoid Personal Biases
Even when you understand the factors that create exclusions and understand your target audience well, it's still possible to create exclusion due to personal biases. To avoid such biases, you need to seek external perspectives.
One way to do this is to constitute a diverse design team. Alternatively, you can create a diverse user community to participate in user testing during the design and prototyping stage. This way, any areas of exclusion will be identified and addressed early on.
For example, Apple invited members of the blind community to get involved in its design process, resulting in the development of the social distancing solution for iPhone. This innovative feature uses LiDAR (Light Detection and Ranging) to notify blind users about the presence of other people near them and help them maintain social distancing.
4. Use Representation to Foster Belonging
Sometimes, exclusion is unconsciously created through things like stereotypes and illustrations. For instance, some social platforms use an arguably masculine illustration as the default profile picture. This can make non-male users feel left out. Another common example is the use of slender women as models.
To avoid such exclusion, you should ensure that different groups are represented in your designs. For instance, you could use illustrations or stock images showing subjects from different races or who have different skin colors. For example, Airbnb went from using generic illustrations (which could be easily assumed to be representing Caucasians) to more diverse illustrations that represent different races.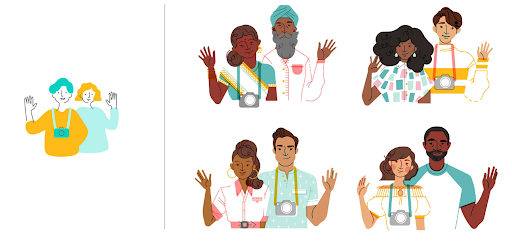 Airbnb replaces the generic illustrations (left) with the more inclusive and diverse illustrations (right). Source: Airbnb
Airbnb has also been working on adding a new "accessibility needs" feature to their website to create a more inclusive platform. They've identified a set of features that can make a better fit for people with disabilities, such as: step-free entry to rooms, entryways that are wide enough to accommodate a wheelchair, and more.
Airbnb also made updates to its website by adding a new "accessibility features" to create a more inclusive platform, by identifying a set of features that can make a better fit for people with disabilities
Another way to use representation is to make your copy more inclusive. An example is using gender-neutral pronouns in your copy.
5. Don't Make Inclusivity an Afterthought
Product designers often come up with a design and then figure out how to make it more inclusive. This approach is wrong for two reasons. First, you're more likely to overlook some areas of exclusion when you start the design without inclusivity in mind.
Second, it's much harder to fix or eliminate areas of exclusion after completing a design. For instance, if you've used stereotypical illustrations in your product, this could mean redoing the character illustrations from scratch.
To avoid this, you should focus on making your product or marketing material inclusive from the beginning. You should make all your design decisions based on inclusivity.
Wrapping Up
Incorporating inclusivity in your design process helps you deliver a great user experience for all your users, regardless of their backgrounds, abilities, perspectives, and even their unique environments. It removes any barriers that might exist within your product and creates a sense of belonging since all users know that the product was designed with them in mind. They weren't an afterthought.
Use the five tips we've shared in this article to make your design process more inclusive and deliver better products for your users. More importantly, understand that the scope of inclusivity isn't constant. Therefore, you shouldn't treat inclusive design as a project with a defined completion date. Instead, you should consider it an evolving undertaking aimed at making your products and designs better for all your users and customers.
We are pleased to see that our designers are using inclusive design across a variety of products in our Design Cuts Marketplace and we hope to see more and more designer adopting this trend. Below is a just a small selection that we thought you might like to check out and use these packs for your designs.
More Related Articles
Top 8 Graphic Design Trends to Embrace in 2023
Best Abstract Shapes for 2023 Design Trends
Best 3D Shapes for 2023 Design Trends
Best Colorful Retro Designs for 2023
About The Author
Magnus Eriksen is a copywriter and an eCommerce SEO specialist with a degree in Marketing and Brand Management. Before embarking on his copywriting career, he was a content writer for digital marketing agencies such as Synlighet AS and Omega Media, where he mastered on-page and technical SEO.
Cover image source Freepik