We are strong believers that there is always a good time to spread the love, so we were very excited for the chance to work on this article and collate the very best romantic fonts that you are sure to fall in love with.
These love fonts speak to the heart and don't hold anything back, which makes them ideal on a variety of romantic projects from Valentines days card, wedding invites and cards, and any other project that has love written all over it. If you are ready to fall for these fonts, please check out our selection below.
In this article you will find the best romantic fonts:
1. Hello My Love
2. La Paloma Script And Catchwords
3. Romantically Font
4. The Secret: Luxury Calligraphy Script
5. Ms Claudy – Wedding Calligraphy Font
6. Coral Lovers SVG Watercolor Font Duo
7. Little Love – Modern Calligraphy Font
8. The Lovepotion Font Collection
9. Beloved
10. Echo Soul Brush Font Duo
1. Hello My Love
"Hello My Love" is a font love story – a match made in heaven, inspired by the designer's own long and happy marriage. A classic hand-lettered script with a modern and fresh feel, it sweetly dances across the page working beautifully with current designs and yet is sure to stand the test of time.
The font package includes a total of 1961 characters and an accompanying 91 piece ornament font filled with frames, florals and elements that will allow you to create a variety of designs to highlight your special project. This romantic font is especially well-suited for invitations for weddings and other special occasions and declarations of love!
For a flourished beginning lower case letter, choose from swashes in 4 different styles and 3 different lengths to create unique beginning lower case letters. Want to add design elements to an invitation suite and day of event signage? The accompanying Hello My Love Ornaments font has all 91 options.
Included in this set:
Hello My Love script font
Hello My Love ornaments font
2. La Paloma Script And Catchwords
Add a touch of elegance to your work with La Paloma Script – A clean, modern, handwritten typeface with over 170 Ligatures and Decorative End Characters to add a dash of luxury to any project.
If you're looking for the perfect logo font, you just found it! La Paloma was designed with Branding in mind! But don't stop there, use this chic type in headlines & titles, signage, greeting cards & invitations, and as a romantic font perfect for Valentines Day.
La Paloma Script And Catchwords
Included in this set:
La Paloma Script (.OTF & .TTF) – An elegant typeface with over 190 alternates and extras.
La Paloma Slanted (.OTF & .TTF) – An italic version of La Paloma Script.
La Paloma Extras (.OTF & .TTF) – 79 Catchwords, Phrases & Florals.
3. Romantically Font
Presenting Romantically Font, a classy and naturally beautiful typeface! Romantically is perfect for branding, photography, invitations, quotes, watermarks, advertisements, product designs, labels, and much more!
Included in this set:
Romantically
Romantically Italic
4. The Secret: Luxury Calligraphy Script
The Secret is a handwritten calligraphy script with more than 50 end-swashes. Also, it is Opentype and works in Photoshop without opening the glyph panel. It's great for a variety of projects: Logos, wedding invitations, headings, signatures, T-shirts, letterheads, signage, labels, posters etc.
Don't keep your love a secret, and make sure you share it loud and clear with this beautiful romantic font.
The Secret: Luxury Calligraphy Script
Included in this set:
.OTF/.TTF/.WWOF: The Secret-regular
HELP
How to access different available alternates in Photoshop without using the Glyph window.
How to access all end-swashes using the Opentype feature.
How to access all end-swashes without the Opentype feature.
BONUS (2 layered .PSD files: Save the date and RSVP)
5. Ms Claudy – Wedding Calligraphy Font
Meet the new modern calligraphy font – Ms. Claudy. This beautiful romantic script is for those who are needing a touch of elegance and style for their designs and particularly well suited for wedding invitations, save the date cards and feminine branding.
Ms Claudy includes a full set of Uppercase and Lowercase Basic Characters, Numerals and Punctuation. Also it contains ligatures and a lot of stylistic alternates to perfectly recreate natural calligraphy (check the previews in order to see them all).
Ms Claudy – Wedding Calligraphy Font
Included in this set:
Ms Claudy (.OTF, .TTF, .WOFF)
6. Coral Lovers SVG Watercolor Font Duo
All of these 4 fonts come with over 150 ligatures and alternate letters that will make all your logo and branding designs unique and different. Coral Lovers SVG font collection is something that I am really proud of and want to see how you use them in your work.
I made a Coral Lovers Serif font for all of you who need a true watercolor effect on your fonts, but also work in industries where elegance and serif fonts are a must. I have included a lot of features and elements; ligatures, alternate letters, regular version I have also included all letters of the watercolor version in one Photoshop file.
Amelie romantic script font is perfect for all your branding projects, Instagram post, and story templates, mood boards, wedding invitations and all other projects that you might have this year. Each letter is hand-drawn and customized so whatever you use it for it will have that true signature style.
Coral Lovers SVG Watercolor Font Duo
Included in this set:
Coral Lovers SVG .OTF – Main font with true watercolor look and feel. If you want to use this one you will need Photoshop CC 2017, Illustrator CC 2018, or Procreate 4.3 (or newer).
Coral Lovers Outline .OTF – The outlined version that comes with all alternates & ligatures like the watercolor version, but also supports all apps and software.
Coral Lovers .OTF – The fallback normal black font that can be used in all apps and software
Amelie Signature .OTF – The fallback normal black font that can be seen on the last mockup
Amelie Signature font also comes with additional 2 sets of lowercase letters with swashes at the beginning and at the end
Over 150 Ligatures & Alternate letters for all fonts
Web Font Kits are included
7. Little Love – Modern Calligraphy Font
Introducing Little Love – a modern calligraphy font with lots of heart swashes.
If you need to pair two names with a heart then the Little Love script is exactly what you need. Use this romantic couple font to declare your love for one another this Valentines Day and beyond.
Little Love – Modern Calligraphy Font
Included in this set:
2 fonts (bold & regular)
help file (with tutorials)
repertoire file
.OTF, .TTF and .WOFF
8. The Lovepotion Font Collection
Fall in love with the Lovepotion Collection! This beautfiful font quartet boats a swanky script, an adorable serif, a clean sans, a rugged hand-drawn version and more than 90 graphics elements.
Use this lovely romantic font to create labels for all your love potions. No, we are just kidding, true love does not require a love potion, but chocolate, flowers and love notes go a long way.
You can also use the Lovepotion Collection on packaging, greeting cards, mugs, apparel, business cards, branding, typography and more!
The Lovepotion Font Collection
Included in this set:
Lovepotion Sketched – A hand-sketched, all caps typeface with loads of hand-drawn charm.
Lovepotion Script – A sweet, smooth script font with decorative ends, standard ligatures and select alternates.
Lovepotion Serif – A charming, simple serif to compliment your script and sketched versions.
Lovepotion Sans Serif – A smooth, clean sans to pair perfectly with the rest of the Lovepotion family. A font set is never complete without that sweet Sans.
Lovepotion Elements (.AI & .EPS) – An adorable set of over 90 hand-illustrated elements to compliment your new font family.
9. Beloved
Beloved Script suggests the hand of a romantic spirit … albeit one writing with a simple pen. Its monoline strokes evoke classic 20th-century penmanship achieved with a ballpoint or rounded nib.
Beloved Script is a lively but casual font. With over 1000 swashes and alternates to choose from, including capitals, beginning, and ending forms, Beloved is powerful for custom headlines and wordmarks. Includes regular and bold weights. Explore what Beloved Script can do for you.
Beloved Sans is a simple sans that likes to get swashy. This monoline sans-serif subtly evokes early 20th-century hand lettering made with a ballpoint pen or rounded nib.
We think this romantic script will be ideal for wedding invitations, Valentine's Day cards, and any other means to declare your love to your dear ones.
Included in this set:
Beloved Ornaments feature 80 decorative elements designed to complement Beloved Script and Sans (or both!)
10. Echo Soul Brush Font Duo
Introducing Echo Soul; a free-flowing and carefree brush font duo, hand painted with love.
Echo Soul romantic brush font speaks from the heart and doesn't hold back. With elongated brush strokes and a natural flow, it's the perfect choice for handwritten quotes, product packaging, and logo designs with a personal and affectionate touch.
Included in this set:
Echo Soul – A handwritten script font containing upper & lowercase characters, numerals and a large range of punctuation.
Echo Soul Alt – This is a second version of Echo Soul, with a completely new set of lowercase characters. If you wanted to avoid letters looking the same each time to recreate a custom-made style, or try a different word shape, simply switch to this font for an additional layout option.
Echo Soul Sans – An all-caps font containing uppercase-only characters, perfect for supporting text to compliment the Echo Soul Script font. Also includes numerals and a large range of punctuation.
11. La Parisienne
La Parisienne is a collection of fonts inspired by Paris avenues and boulevards full of inimitable French charm. The family is a mix of hand lettering and classic forms. All fonts in collection work well together and while they share some of the features each of the fonts has its own character. The main fonts in the collection are full of open type features such as stylistic and contextual alternates and swashes.
Many have called Paris the city of love, so what better way to share love in your designs than with this classy and beautiful romantic font.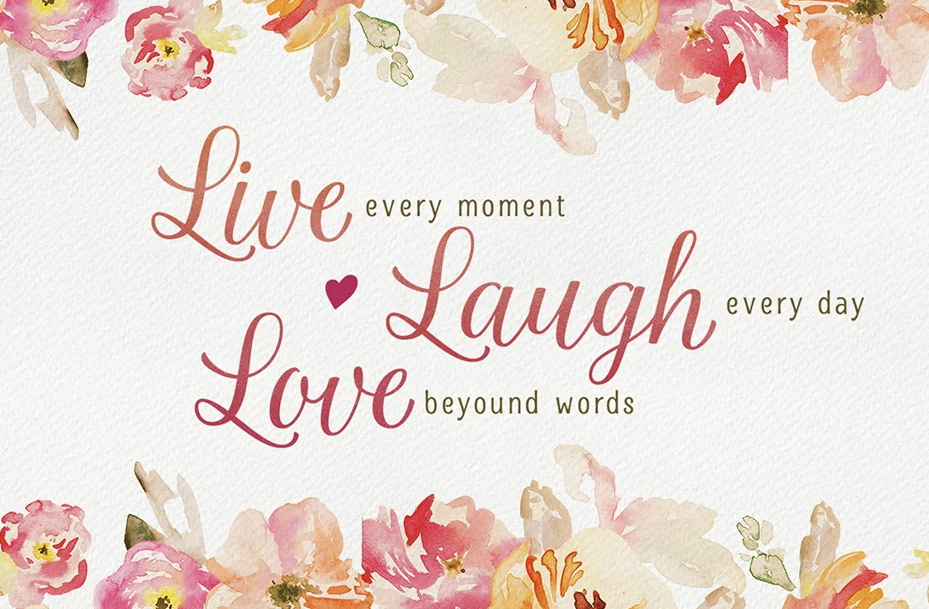 Included in this set:
La Parisienne Font Family
12. Bougenville Script
Introducing Bougenville Script – a new fresh & modern script with a hand brushed style, decorative characters and a dancing baseline! This font looks great on personal branding, business cards, stamps, quote posters and greeting cards. And don't forget wedding season! This romantic font would be gorgeous on Save The Date cards or invites.
Included in this set:
Bougenville.otf
Bougenville.ttf
Web Fonts Kit
13. Catch Feels – Lovely and Quirky Font
Catch Feels is a lovingly hand-drawn font with a bunch of funny ligatures. Create a special, fun & stylish typography design like logo, branding, book cover, t-shirt, album covers, ​and social media projects.
Try mixing uppercase and lowercase letters as you wish to create very hand-drawn, fun vibes.
If you like to have fun with your declarations of love, then Catch the feels is the romantic font you need to add to your collection.
Catch Feels – Lovely and Quirky Font
Included in this set:
Catch Feels Regular with standard and discretionary ligatures
Numbers and punctuations
14. January Love .SVG Font Duo
When you hear words "month of love", January is definitely not something that comes to your mind first. But, let's change that a bit and give January some. At least, that's what I'm trying to do with my new romantic font couple: January Love!
This collection includes a creative and elegant serif and a hand drawn watercolor script, making a lovely pair that you shouldn't miss (pun intended)!
These two fonts are actually not just two simple fonts, the pack is full of unique alternates, ligatures and some spicy extras! January serif comes with 67 ligatures and alternate letters, Love .SVG comes with one additional set of uppercase and two sets of lowercase letters + amazingly creative 88 ligatures.
Included in this set:
January serif font with 67 alternates and ligatures
Love .SVG script font with 1 additional uppercase and 2 lowercase alternate letters + 88 ligatures that will make your text look even more unique
Love Script that is actually intended for software that doesn't support .SVG fonts
10 Unique logo design templates in .AI, .EPS and .PSD file format
Over 250 hand drawn elements, shapes, lines, words, foliage in .PNG file format
29 Unique Instagram Story Backgrounds in .JPG (29 files) and .PSD (21 files) format
Modern & Creative Design
Organized & Fully Layered Files
15. Loveletter Script with Vectors
Introducing Loveletter Script – an elegant, flirty, calligraphy-style script with decorative end characters and a dancing baseline! So pretty on branding materials, blog headers, business cards, quotes and more!
There are probably very few people that still write love letters these days, but the beauty of digital fonts is that you can create love messages using romantic script fonts, that will look just as an original handwritten message. Use this love font on cards, wedding invites and save the date cards and anything else to declare your love.
Loveletter Script with Vectors
Included in this set:
Loveletter Script (.OTF File), including language support, end ornaments and ligatures, plus a bonus set of vector elements (.AI & .EPS files, which are best used with Adobe Illustrator, InkScape or Corel).
16. Dramatico Script Font
Dramatico is a script font family inspired by vintage handwritten postcards and notes. Perfect for any design that needs a vintage calligraphy look, Dramatico was handmade using a real dip pen and ink. Use it in signatures and logos, notes and quotes, social media posts, and branding and packaging.
Though the name might not suggest it, Dramatico can be used as a romantic font to give all your love notes that handwritten feel. We won't tell if you don't.
Included in this set:
Ligatures for a more natural text
Swashes for most of the lower-case letters
A set of ornaments to decorate your text
A set of extras (lines, scribbles, arrows, splatters, etc) to add a grungier look to your vintage designs
Bonus! Underlined and Strikethrough versions of the script font
17. Everything Calligraphy
Everything Calligraphy is a stylish calligraphy font that features a varying baseline, smooth line, modern and with a depth of love. For those of you who are in need of a touch of love and modernity, this is the romantic font you were looking for.
The font design looks simple without losing its elegance and warmness. The function of the font is to show that you have a modern spirit to serve high-quality products and services.
You can use it for a business logo, branding, wedding invitations, and anything you want!
Included in this set:
Everything Calligraphy Font
18. Melody Sunday – Heart Connected Font
Melody Sunday is a Chic and Lovely Calligraphy font with an added love touch, making it the perfect romantic font for your favorite projects. Fall in love with its incredibly distinct and timeless style and use it to create spectacular designs!
"Melody Sunday" includes a full set of lovely uppercase and lowercase letters, multilingual symbols, numerals, punctuation and ligatures. Also it includes: Alternates letter for lowercase beginning and ending swashes, lowercase ending heart swashes, which serve to connect two words or letters (This is so perfect for invitations, monograms and more. )
Melody Sunday – Heart Connected Font
Included in this set:
Melody Sunday OTF, TTF, WOFF
SVG for alternates letter
Multilingual Support
19. Abiding Love Collection Fonts
Abiding Love is a gorgeous trendy font duo that makes for stunning logos, quotes, wedding invites, blog posts, Instagram, and more!
Abiding Love Script includes over 100 ligatures to make everything look perfectly natural and hand written, and there is a full set of lowercase alternates for each letter as well.
Abiding Love Serif is an all uppercase serif font that just goes so well with the script, making this the perfect romantic couple font to convey all your love messages with.
Included in this set:
10 Logo templates (.psd format)
OTF + TTF files
Web font file (.WOFF)
Regular Script
Alternates Script
Swashes Script
Bold Script
Serif
Numbers + Punctuation
International language support
106 Ligature
20. Maryland Wedding Font
Crafted with love in our cozy home studio, Maryland Wedding Font is an authentically hand-lettered, elegant romantic script.
The pack includes alternates for lowercase and uppercase characters as well as additional characters with playful tails, which add a unique charm to your special design. Maryland has been created to work perfectly in multiple designs like wedding invitations, website logos, social media posts, posters, cards and many, many more.
Included in this set:
Maryland Regular and Slanted with OpenType features
21. Love Craft – A Lovely Font
Love Craft is a Chic and Lovely Calligraphy font, with a girly and playful feel. Fall in love with its incredibly distinct and timeless style and use it to create spectacular designs!
This incredibly romantic font is perfect to use as a wedding font, fashion font, invitation font, any many other design projects that need a touch of love and class.
Included in this set:
Love Craft .OTF, .TTF, .WOFF
22. Calling Loves – Font Duo
Calling Loves is a beautiful font duo, designed with modern style.
The combination of script and modern serif will make your design more beautiful. It's suitable for branding, web design, personal signature (logo) and many other modern designs.
Calling Loves is an ideal romantic font couple which can be used on a variety of love declaration designs such as Valentines Day cards, love letters, wedding invites and more.
Included in this set:
Accents (Multilingual Characters)
Ligatures (in Ccript Fonts)
PUA encoded
Numerals and Punctuation (OpenType Standard)
23. Lovalina – Elegant Serif Font Family
Lovalina – Elegant Serif Font Family is a compact font family, created by combining a variety of elegant styles. Lovalina is the elegant love font you didn't know you needed, and it's sure to add a delicate touch of sophistication to all your design projects.
This love font will lend itself perfectly on a variety of projects such as Valentines Day cards, wedding invites, greeting cards and even logos, branding, headlines and more, where a touch of elegance is needed.
Lovalina – Elegant Serif Font Family
Included in this set:
Lovalina Regular .OTF & .TTF
Lovalina Italic .OTF & .TTF
24. The Valentines
The Valentines is a new modern font with a love theme. It is suitable for use in title designs such as wedding invitations, clothing, book titles, stationery designs, quotes, branding, logos, greeting cards, T-shirts, packaging designs, posters, and more. This font has more than 500 alternatives consisting of uppercase and lowercase letters, Also has love alternatives such as picture number 2. You can simply combine two words to get alternative love like "James Sophia". The Valentines font also has multi-language, numeric, punctuation support.
Included in this set:
25. Forbidden Love – Display Font
Introducing Forbidden Love – Display font | Latin & Cyrillic
Forbidden Love is stylish and creative love font loaded with alternate and ligature glyphs, 95 languages support to make you typography truly unique!
Included in this set:
Uppercase, lowercase, numeral, punctuation & Symbol
ligature glyphs
alternates
Multilingual support – 95 languages
No special software is required to type out the standard characters of the Typeface
Best Romantic Fonts to Fall in Love with
We are smitten with this selection of romantic fonts, and we hope you've enjoyed browsing through our collection and fell in love with a few of these and you can't wait to use them in messages to convey your love. If you are looking for more fonts to elevate your love design projects and more, please check our lovely collections of fonts below.
More Related Articles
Best Luxury Fonts for Stylish Designs
20 Stunning Wedding Fonts for Your Special Day
Stunning Summer Fonts To Add a Holiday Vibe
25 Lovely Handwritten Fonts for Adding a Personal Touch
15 Modern Calligraphy Fonts for all Your Design Projects
17 Fancy Cursive Fonts For All Your Designs