Are you looking to convert your brushes from Procreate to Affinity Designer? Well we have got you covered as this tutorial will talk you through the process, step by step. You can also use this tutorial if you want to make a brand new raster brush and/ or just want to know how to make a brush in Affinity Designer.
Step 1. Prepare your brush
Open Procreate.
Create a document with your brush stroke isolated on it. Make sure your brush is black and keep the background transparent.
Save your brush swatch as a PNG and select the highest quality.
Step 2. Choose the right artboard
In Affinity Designer you have 3 different Personas- Vector, Pixel (aka Raster) and Export. These are located in your top panel and please note, Affinity Designer will always default open in the Vector Persona.
Open Affinity Designer.
Click on the icon next to the Affinity Designer logo (Looks like a series of squares) so that you are now working in Pixel Persona.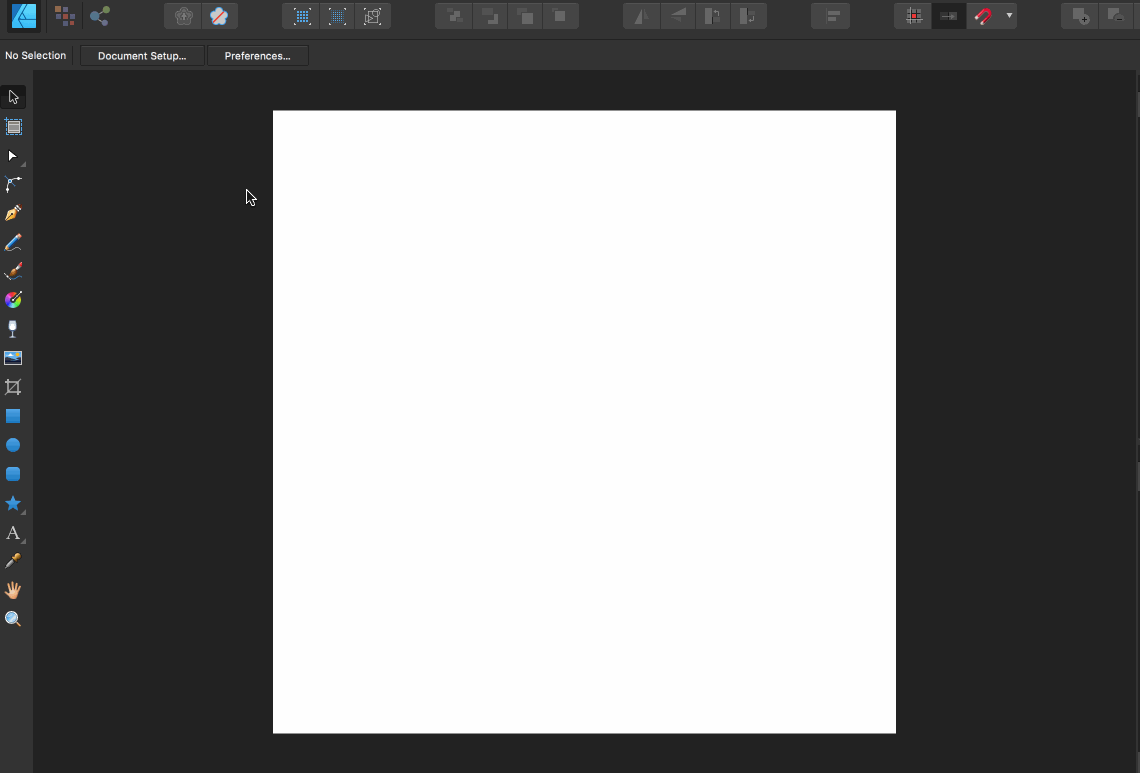 Step 3. Import your brush.
Click the options icon in your right side panel that looks like a tower of 4 horizontal lines (this is called a 'burger menu'), as seen below.
Select New Intensity Brush. This will then open your computer files.
Select your brush PNG you prepared in Step 1.
Your brush will now appear in brushes panel.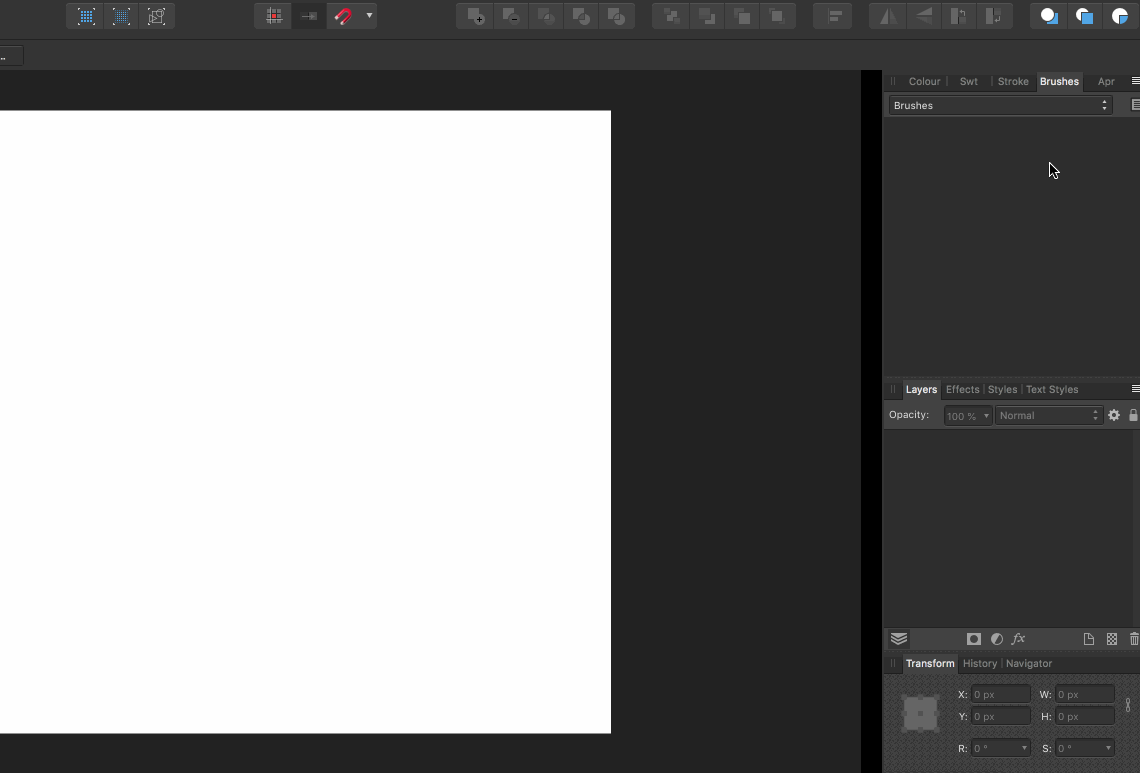 Step 4. Side by side brush test.
This is an optional step but it can be helpful to be able to match up your Affinity brush's appearance to your original, by comparing them side by side.
Open Procreate.
Create a simple brush stroke with your Procreate brush and save as a PNG or JPG.
Open Affinity.
Place your saved brush stroke file in Affinity.
Draw a brush stroke using your new Affinity brush next it so that you can compare their appearance, and see any differences.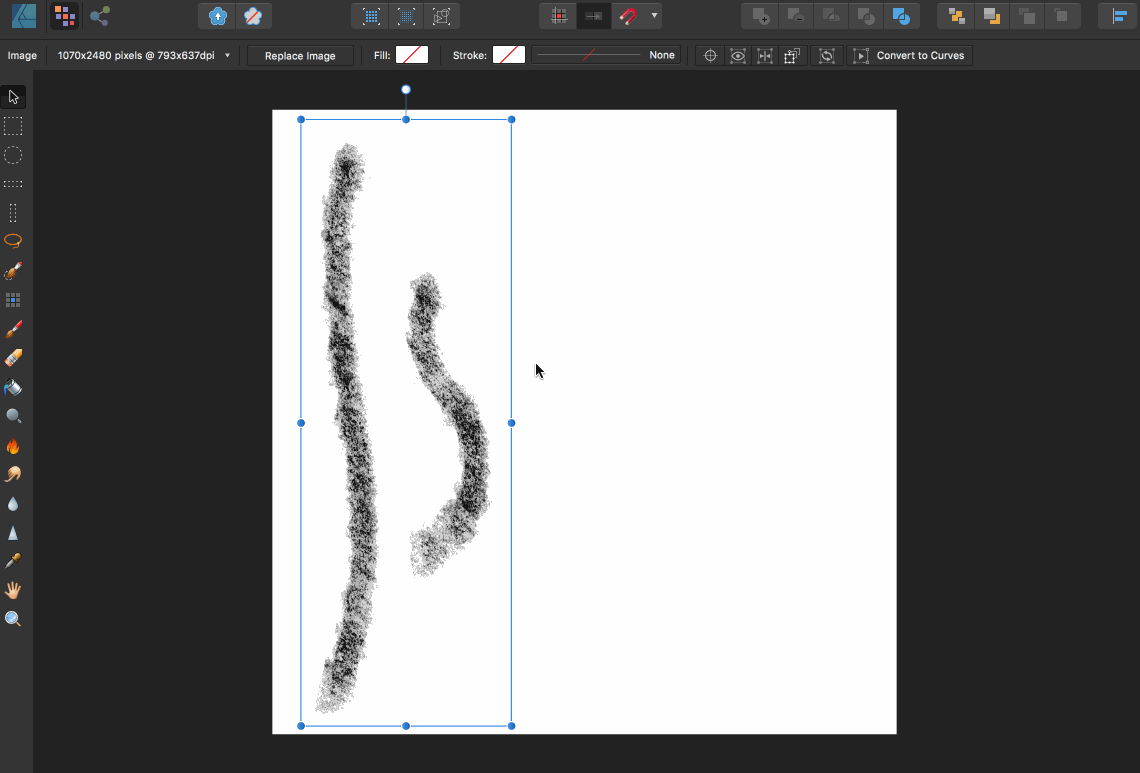 Step 5. Edit your brush.
Right click on your brush in your brush panel and select edit brush or double click to open the General editing options.
Experiment with the sizing, spacing and any other options that you want to get your Affinity-created brush stroke looking as close to your original Photoshop brush as possible.
Tip: Adjusting the spacing is typically a good starting point to ensure your brush behaves as expected, as shown below.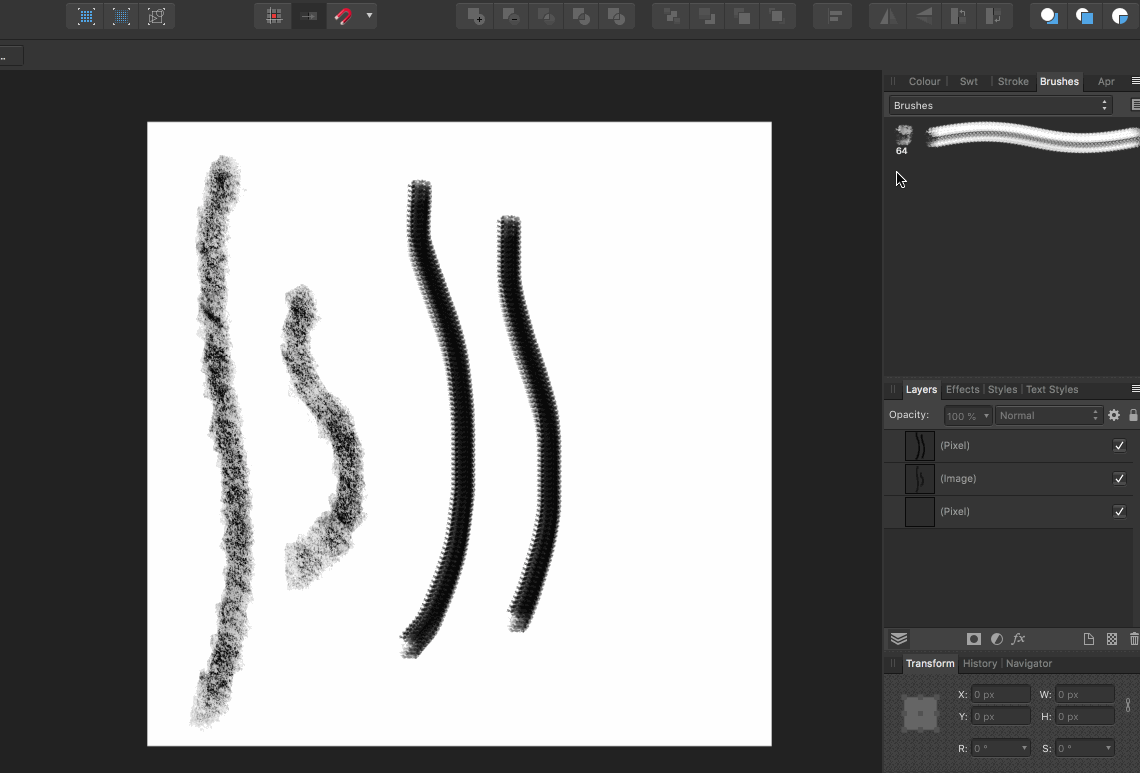 Step 6. Edit your brush dynamics.
Now you are ready to play with the dynamics options of your brush.
Click on your 'Dynamics' editing tab.
The dynamics settings allow you to adjust things like jitter, rotate, flow and luminosity via the sliders. There is a degree of trial and error required. In the example below, we're adjusting settings to give a more authentic smokey, chalky appearance.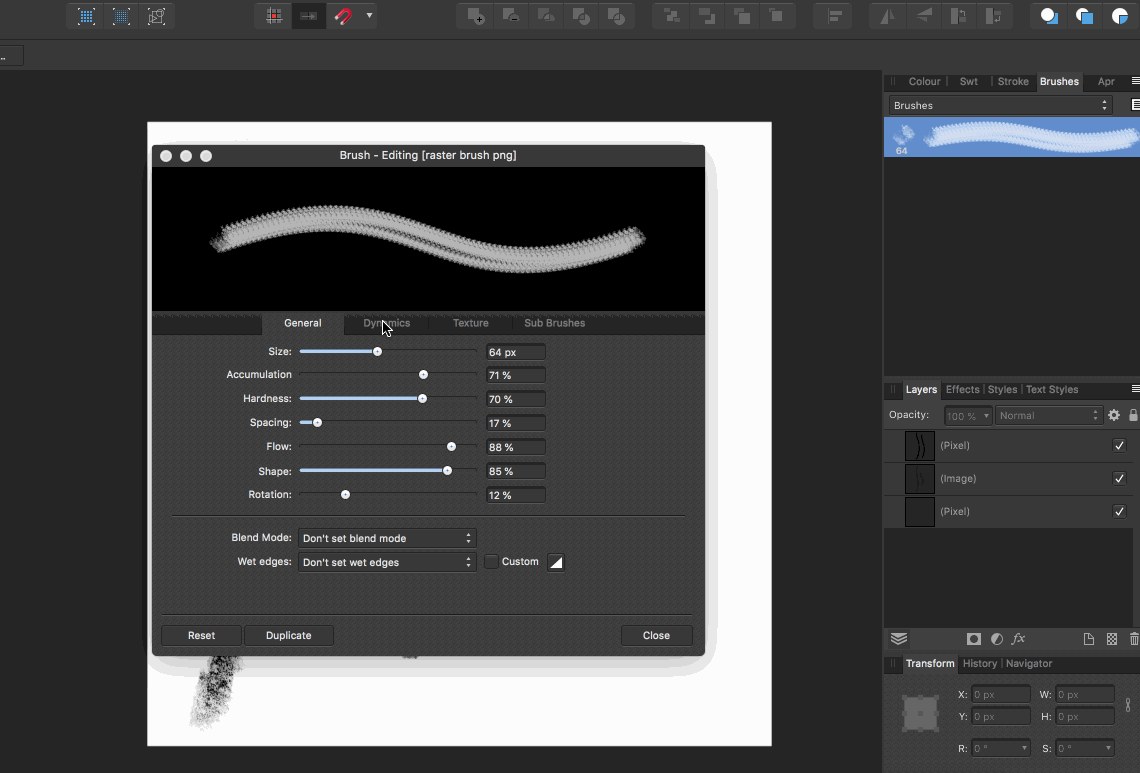 Step 7. Add Texture to your brush.
It's time to add texture to your brush.
Click on your 'Texture' editing tab.
Click 'Set Texture'.
Choose the Texture you previously used in your original Procreate brush from your computer files.
Change your texture Mode if required. For this brush example, we have selected the Nozzle Mode. It adds more of a noisy look throughout the brush.
Draw a brush stroke next to the original brush you imported previously to compare the two. You can then play around with it further if needed.
Tip: The more you play around, the more comfortable you will get with the different options.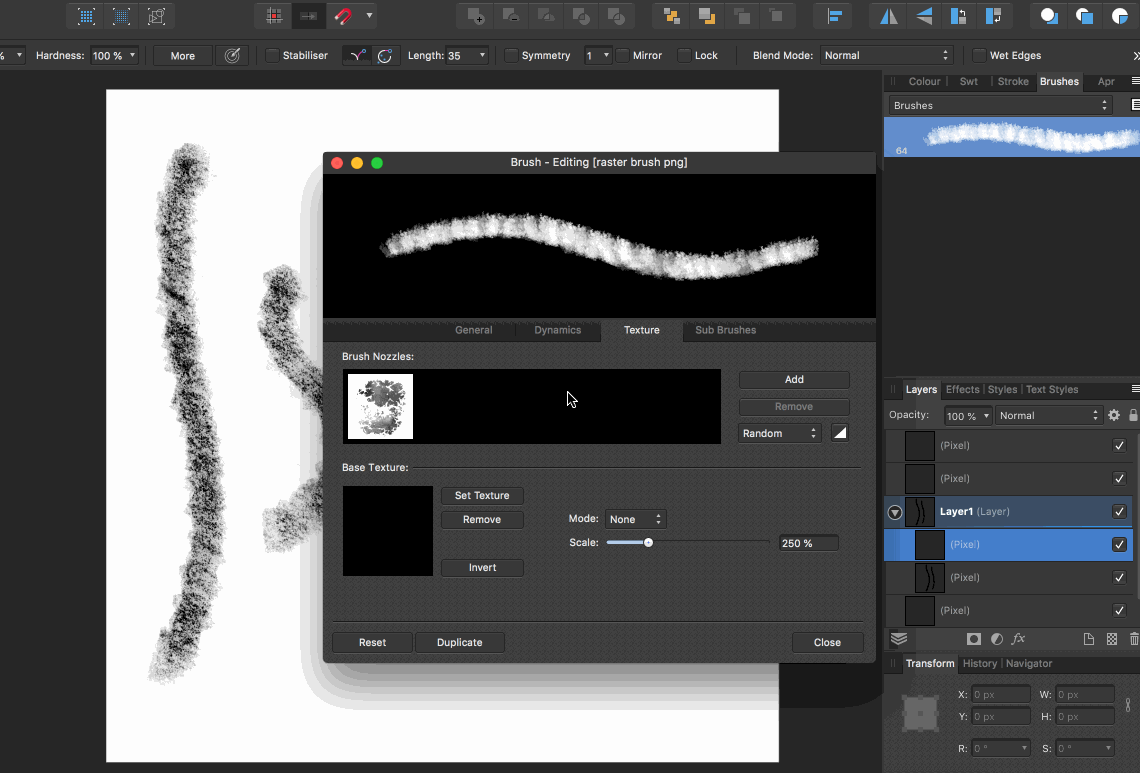 Step 8. Export your brush.
When you're happy with your brush, you're ready to export!
Click the burger menu in your brush panel, as shown below.
Select Export Brushes.
You have now exported your brush as an Affinity .Brush file. Great job!
Tip: If you would like to export multiple brushes in one go, populate your Brush Category with all of your chosen brushes, and then export using the steps above.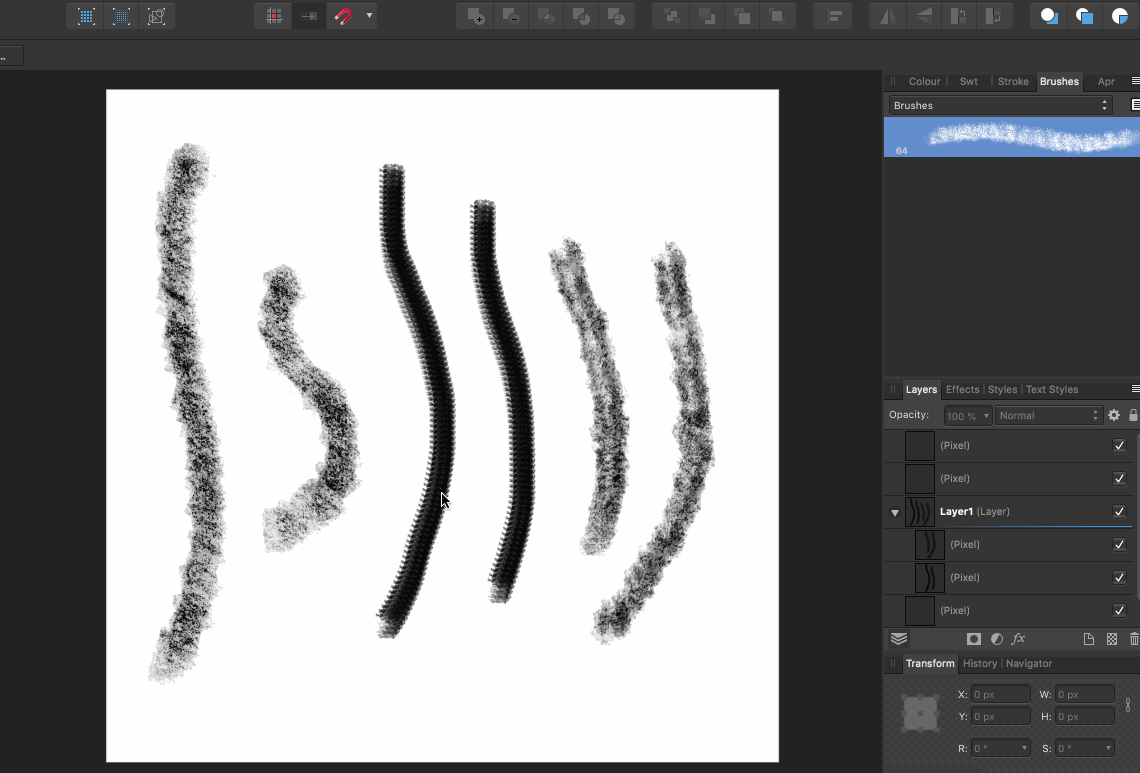 Thank you and good luck with your brush ventures. If you enjoyed this tutorial and have other suggestions for future tutorials, please let us know in the comments below.