In this episode we talk about each of our design processes. We look at everything from the initial brainstorm, to the initial ideas, early stage designs, refinements, and final mockups. This is an insight into the workflow of four successful designers.
Other Ways to Listen: Soundcloud | iTunes | Stitcher
Meet Your Hosts
The Honest Designers Show started when our founder Tom found he was regularly chatting and sharing tips with top designers; Ian Barnard, Lisa Glanz and Dustin Lee. We soon organised a weekly call where we would help each other with areas we were struggling with and try to give each other actionable feedback. Soon we realised that the collective experience of the group was proving so valuable for each of us, that we thought 'why not share these conversations with the world?'.
And so, The Honest Designers Show was born! This podcast is an insight into how to succeed in the creative industry, as well as giving you a totally transparent, under the hood look at some of the tougher, less glamorous hurdles to overcome! We also tend to get a little goofy along the way, so this is a chance to get to know each of us a little better :). We've loved recording this show for you, and we hope that you find value and enjoyment in listening to it.

SHOW NOTES
Please find full show notes for this episode below:
[1.00] This week we're talking all about design processes
[1.50] Ian's initial phase of ideas popping into his head 'idea sparks'
[2.40] Dustin starts with the outcome, and goes backwards from there, reverse engineering what he wants to achieve
[3.30] How Tom would see a website and instantly see how to improve it
[5.00] Ian advocates getting down the most obvious idea first
[6.00] Lisa starts by forming a personality for the company she's working with
[7.00] She also always made it clear to new clients that she had a particular aesthetic, and that is what they should expect
[7.50] Once you have the personality down, start with mood boards, colour boards etc…
[8.50] Take the time to really familiarise yourself with the company, their values, their business plan etc…
[9.20] Look beyond just your point of contact, and think about the wider company
[10.00] As your career develops, you'll have choice over the projects you take on
[11.00] When you care about the client's company, the process gets easier, and you feel more inspired
[12.50] Dustin looks at how to stand out against competitors
[14.00] The first steps after the ideas phase. Lisa starts by writing down words, to get the creativity flowing.
[14.45] Dustin would start creating a rough collage of visual ideas
[15.20] Tom would just start designing from a blank canvas (typically a bad idea), but he's lay everything down very roughly, then start a new document, and redo his work, in a more pixel perfect way
[16.15] Ian also just starts playing around and seeing what looks good
[17.15] There is something to be said for not always following a careful process, and just being rough and creating
[19.00] Tom's process of trial and error designing
[20.15] Deliberating over which versions of the same design are better
[22.00] At some stage, everything starts to look the same!
[23.00] The rollercoaster of emotions throughout a project's process
[24.20] Lisa starts mocking up her designs, to see them in real world context
[26.00] Looking at designing with context in mind, and revisions
[29.00] Ian not taking his own advice!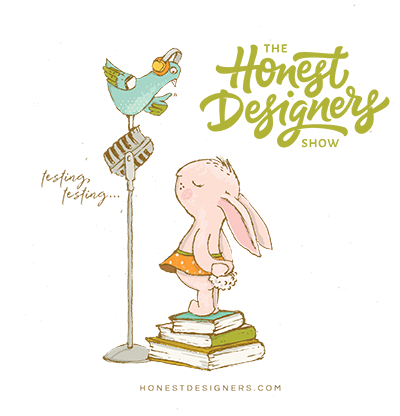 How you can help
As this is a new show, we'd really appreciate your help spreading the word. If you enjoyed listening and found value in this episode, you can do these two things to help us:
1. Subscribe to The Honest Designers Show in iTunes
2. Leave us an honest rating/review in iTunes
Early reviews can make the world of difference for new podcasts being discovered, and it would mean the world to us if you were able to help.
Click to listen to The Honest Designers Show on iTunes

Here is a quick guide for how to leave a review on iTunes
Want Help From the Honest Designers?
We would love to help you with your creative journey! Simply use #honestdesigners on social media, and the four of us would love to check out what you're working on, join the discussion and try to help wherever we can!
Join the discussion on Instagram
Join the discussion on Twitter
Let Us Know What You Think
We would absolutely love to know how you enjoyed this episode. We'll be releasing a new episode each Wednesday, and look forward to hopefully answering many of your questions on the show.