In this week's episode we look back at our design roots and chat about our formative years designing. Often creativity kicks in early and we actually look at the wider issues of how children often lose their creativity as they start to grow up. If you ever wanted to know what Lisa Glanz was like at school age, then stick around and tune in.
Other Ways to Listen: Soundcloud | iTunes | Stitcher
Meet Your Hosts
The Honest Designers Show started when our founder Tom found he was regularly chatting and sharing tips with top designers; Ian Barnard, Lisa Glanz and Dustin Lee. We soon organised a weekly call where we would help each other with areas we were struggling with and try to give each other actionable feedback. Soon we realised that the collective experience of the group was proving so valuable for each of us, that we thought 'why not share these conversations with the world?'.
And so, The Honest Designers Show was born! This podcast is an insight into how to succeed in the creative industry, as well as giving you a totally transparent, under the hood look at some of the tougher, less glamorous hurdles to overcome! We also tend to get a little goofy along the way, so this is a chance to get to know each of us a little better :). We've loved recording this show for you, and we hope that you find value and enjoyment in listening to it.

SHOW NOTES
Please find full show notes for this episode below:
[1:00] This week the hosts talk about how the four of them got started with design
[1:30] Ian started design when he was at school
[2:00] Tom was always interest of creative stuff and even as a small child he was creating using Lego
[2:40] Dustin used to be really interested in boxes and packaging as a child
[3:20] Lisa loved everything with a pretty pattern
[4:00] She believes we're all born creative
[4:40] Ian thinks that children lose their creativity as they grow older
[5:20] Creativity needs to be exercised just like a muscle
[6:00] The hosts believe that they kept their creativity because they kept working at it since they were kids
[6:50] Dustin makes a reference to sport and says he's not good at football because he didn't practice it
[8:00] The hosts parents are proud of their design work and are still holding to some of these pieces
[8:40] As a parent you are proud of your children's work mostly because you see how happy they are of what they've created
[9:20] Dustin believes people lose faith in their creativity when they start comparing their work to other's work
[10:30] Others might think different than you of what is your best and your worst work
[11:00] Lisa enjoys the process of creating and then seeing the end result and
[11:50] Tom said that comparing his work to others actually pushed him to be better
[12:30] The thing the hosts enjoy most that design means creating something out of nothing
[13:10] Tom compares this to starting a business from scratch
[13:50] Tom likes that the creative work means producing original pieces
[14:50] Dustin remembers using his creativity when he had to clean his room as a child
[15:40] Design can make mundane things fascinating
[16:10] Tom will always help make something look better
[17:00] It made him happy when other people see the photo manipulation work he's done on photos and think of it as magic
[17:30] Dustin said that he got excited about photo manipulation during his Photoshop course at college
[18:00] Ian wanted to be a stuntman as a child
[19:00] He later found that he needed to be qualified in a variety of fields to be a stuntman
[20:30] During college he did a multimedia course but realized that video logging was difficult
[21:00] Ian then found that graphic design was something that he was good at and much easier to do
[22:00] He enjoys doing a bit of gardening to give his brain a break
[22:40] Lisa enjoys watching boring movies to relax and Dustin likes watching Nicholas Sparks movies
[23:20] The hosts say that creative work is not as relaxing as some might think and sometimes it can be exhausting
[24:20] Lisa loves losing track of time when illustrating and getting immersed in the fairy tale world that she's creating
[25:00] Ian found it interesting when his creative passion became his main source of income
[26:00] The hosts consider themselves lucky to be able to do what they like and earn money from it
[27:00] Dustin went to an art school and did everything from design to dancing
[27:45] Thinking of the financial implications of doing art pushed Dustin into banking
[28:30] The hosts believe that the myth of the 'starving artist' is not as true as it used to be
[29:00] Tom wishes he still had the time to play with creativity
[30:00] Ian regrets not investing more time into his creative work when he was younger
[31:20] Dustin thinks this is because people think they must take certain steps and get their credentials, which stops them from doing what they love
[31:45] "Youth is wasted on the young" – Tom Ross
[32:30] Lisa was happy that she had a creative family and did all types of crafts as a child
[33:20] During high school Lisa used to stand up for people being bullied
[33:50] She mentions she also has a very active imagination
[34:30] Kids that show an interest in creativity should be encouraged
[35:10] Due to the mentality that you can't make a living out of design, Lisa went on to study architecture and hated it
[36:00] The lesson she learned from doing architecture for a year is that you need to fight for your dream
[36:50] Automation has replaced many of the jobs that were believed to be safe and other degrees like humanities are getting more interest
[37:30] Lots of specialized roles got replaced by automation
[38:00] This is a good time to be a designer
[38:40] Dustin thinks that at some point design is going to be taken over by big corporations
[39:20] Lisa says that creativity helps you problem solve better and think outside the box
[40:30] Dustin gives the example of a museum in France that only allowed certain types of designers to be featured, and the ones that didn't get featured had their own movement and created their own museum
[41:15] In this day and age you have the freedom or creating without needing permission
[42:15] The hosts all experienced being dismayed by someone and suggest always holding onyour passion
[42:45] Lisa suggests putting the time into the skill that you want to learn and you will become better at it
[43:00] Ian adds a caveat and says it's important to learn the right ways from the beginning
[43:40] He gives the example of the latte art he's been sharing on Instagram and says it's not very good as no one has ever taught him how to froth the milk the right way
[44:30] You need to get the knowledge from the beginning and practice that
[45:50] Tom has been learning mostly through trial and error and thinks he could have learned in less time if he learned the right way
[46:30] Ian suggest looking at your work and critiquing it to see where it's not working and why
[47:00] Tom says it's also very important to have taste
[48:00] Ask yourself why do you like a piece of design
[49:00] You can't change your taste so don't force yourself into doing design work that you don't like
[49:30] Tom used to copy other designer's work and learn from them before he found his own design style
[51:30] He tried everything and didn't settle to any style for many years
[52:00] Not everyone can make it to the best 1%, but you have to be the best that you can be
[53:40] The hosts think Dustin is the best at retro design and he is part of the 1%
[54:10] Dustin thinks that you should also embrace not being the best and enjoy yourself
[54:50] Tom asks what would the hosts message be to their 8 year old self
[55:20] Lisa would tell her younger self that even if the world is against them, they should follow their gut
[55:40] Dustin thinks that even at 8 years old, they will know what they're good at and what is important
[56:00] Ian admits he can't remember what he was doing at that age, but his advice would be to learn
[56:40] Tom would tell his 8 year old self that it's all going to be okay
[58:00] Thank you for listening to this week's episode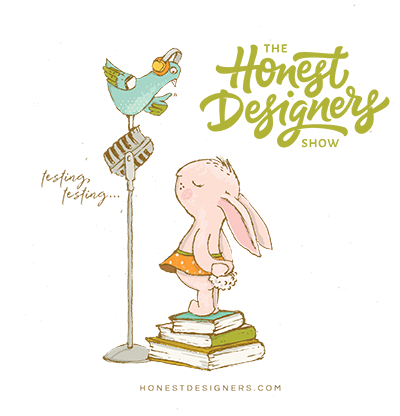 How you can help
As this is a new show, we'd really appreciate your help spreading the word. If you enjoyed listening and found value in this episode, you can do these two things to help us:
1. Subscribe to The Honest Designers Show in iTunes
2. Leave us an honest rating/review in iTunes
Early reviews can make the world of difference for new podcasts being discovered, and it would mean the world to us if you were able to help.
Click to listen to The Honest Designers Show on iTunes

Here is a quick guide for how to leave a review on iTunes
Want Help From the Honest Designers?
We would love to help you with your creative journey! Simply use #honestdesigners on social media, and the four of us would love to check out what you're working on, join the discussion and try to help wherever we can!
Join the discussion on Instagram
Join the discussion on Twitter
Let Us Know What You Think
We would absolutely love to know how you enjoyed this episode. We'll be releasing a new episode each Wednesday, and look forward to hopefully answering many of your questions on the show.