Today we answer a common question we've been getting from the community: "What we would each do if we were starting as a freelancer from scratch again?". This was a really fun episode, where we each discussed what we would do in our first week if we were starting a new freelance business today. We get into the dread of cold-calling, the power of referrals, how to become a specialist, offering value, and using the power of social media to attract your initial clients.
Other Ways to Listen: Soundcloud | iTunes | Stitcher
Meet Your Hosts
The Honest Designers Show started when our founder Tom found he was regularly chatting and sharing tips with top designers; Ian Barnard, Lisa Glanz and Dustin Lee. We soon organised a weekly call where we would help each other with areas we were struggling with and try to give each other actionable feedback. Soon we realised that the collective experience of the group was proving so valuable for each of us, that we thought 'why not share these conversations with the world?'.
And so, The Honest Designers Show was born! This podcast is an insight into how to succeed in the creative industry, as well as giving you a totally transparent, under the hood look at some of the tougher, less glamorous hurdles to overcome! We also tend to get a little goofy along the way, so this is a chance to get to know each of us a little better :). We've loved recording this show for you, and we hope that you find value and enjoyment in listening to it.

SHOW NOTES
In this episode we talk about what we would do each do if we were starting out as a freelancer from scratch. We discuss some successful tactics from our earlier careers and combine these with the experiences we've learned along the way.
[1.00] What is our advice for freelancers starting out?
[1.40] Lisa picked up the Yellow Pages and cold called!
[2.30] How Lisa transitioned from full-time to freelance
[3.40] Why it was tougher in the past, without social media
[4.50] Finding the motivation to break out of your comfort zone finding clients
[5.45] How to keep faith when struggling to find clients
[6.30] Why direct communication is the most effective
[7.15] Why your 'conversion rate' matters when pitching for business
[8.30] Why people hire people they like
[9.20] Why human relationships matter so much in business
[10.20] How Tom used local connections to get the ball rolling
[10.50] Referrals then start to kick in
[11.20] How Lisa just referred her developer for us
[11.50] Ian didn't put himself out there, but still got work
[12.50] How Ian used link-backs to attract new clients
[13.30] Don't burn bridges, as older companies can often pass on work
[14.30] Building up a web with strands to potentially reach new clients
[15.15] Sticking with what feels comfortable to you
[16.55] How Ian still to this day gets client requests from older work
[17.15] Why designers are in demand
[18.30] We don't even know many designers who are available! This makes it easier to get referrals.
[19.00] Paul Jarvis making a name for himself to attract referrals
[20.00] A great business development opportunity for designers
[21.00] How Dustin has a mutually beneficial friendship with another designer
[22.00] Word of mouth and recommendations are the highest converting way of attracting new clients
[22.50] Stand out by offering something of value (without pitching your services)
[23.50] Tom's story of how he offered free consultations, and his tips for how to replicate this technique
[25.30] The importance of putting yourself out there in the right places
[26.15] How Dustin stood out by combining two things he was great at, to find one thing he was best at
[27.00] How to niche down to attract early clients more easily
[28.00] Becoming a specialist, to make your services more attractive to potential clients
[29.15] Dustin's experience of hiring a specialist
[30.30] Ian's experience of developing a specialist style in his lettering
[31.30] Focusing on what's in demand in your local area (Lisa's experiences)
[32.15] Why local can be easier than global when you're starting out attracting clients
[32.50] Defining your ideal client (who you can realistically attract)
[33.30] Quick fire round – What Lisa would do is she started out today
[35.00] If Tom started out (he would ignore the 'fancy' work that didn't make money early on)
[36.30] Why the business cards, and the 'brand image' aren't so important early on
[37.10] What Dustin would do starting out (guest blogging and providing value)
[39.30] Why you need to be sincere and contribute value, rather than spamming people
[41.00] What Ian would do starting out today (using his network of Facebook friends, using social media as a catalyst)
[42.00] Ian's tip for defining the work you truly want to focus on, very early
[43.00] How Ian would post content from day-1 to build up an audience
[45.00] How we would all do what we actually did originally. But in a more focused, quicker way.
[45.30] Pay attention to what is working, and do more of it (plus Ian's caveat on this)
[47.45] Why your level of discomfort is dependent on your time-frame to get work in the door
[48.40] How Lisa did the initial uncomfortable work, but then never had to worry about it again
[50.20] Don't worry about business plans, just get moving!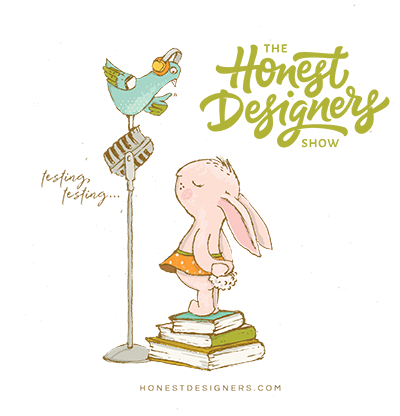 How you can help
As this is a new show, we'd really appreciate your help spreading the word. If you enjoyed listening and found value in this episode, you can do these two things to help us:
1. Subscribe to The Honest Designers Show in iTunes
2. Leave us an honest rating/review in iTunes
Early reviews can make the world of difference for new podcasts being discovered, and it would mean the world to us if you were able to help.
Click to listen to The Honest Designers Show on iTunes

Here is a quick guide for how to leave a review on iTunes
Want Help From the Honest Designers?
We would love to help you with your creative journey! Simply use #honestdesigners on social media, and the four of us would love to check out what you're working on, join the discussion and try to help wherever we can!
Join the discussion on Instagram
Join the discussion on Twitter
Let Us Know What You Think
We would absolutely love to know how you enjoyed this episode. We'll be releasing a new episode each Wednesday, and look forward to hopefully answering many of your questions on the show.