In the busy digital world it can be really tough to stand out as a designer. Today we look at the most effective ways to get noticed, whether you're looking to attract more clients, see more engagement on social media, or simply make a name for yourself in the industry. From purple cows, to vegetable calligraphy, there's a lot of gems in this discussion for any creative!
Other Ways to Listen: Soundcloud | iTunes | Stitcher
Meet Your Hosts
The Honest Designers Show started when our founder Tom found he was regularly chatting and sharing tips with top designers; Ian Barnard, Lisa Glanz and Dustin Lee. We soon organised a weekly call where we would help each other with areas we were struggling with and try to give each other actionable feedback. Soon we realised that the collective experience of the group was proving so valuable for each of us, that we thought 'why not share these conversations with the world?'.
And so, The Honest Designers Show was born! This podcast is an insight into how to succeed in the creative industry, as well as giving you a totally transparent, under the hood look at some of the tougher, less glamorous hurdles to overcome! We also tend to get a little goofy along the way, so this is a chance to get to know each of us a little better :). We've loved recording this show for you, and we hope that you find value and enjoyment in listening to it.

SHOW NOTES
In this episode we talk about how to stand out and get noticed as a designer. Whether you're looking to attract new clients, or get more attention on social media, this episode is packed full of actionable tips.
[1.00] The world is only getting more crowded, so how do you stand out?
[1.30] Why simply being reliable can help you to stand out
[2.30] Why standing out doesn't need to be about the 'sexy' stuff
[3.30] The importance of not skipping the basics
[4.20] Lisa's friend who was really talented, but made mistakes
[5.00] Ian's favourite builder strikes again!
[6.00] Why consistency matters
[7.00] Dustin's example of people putting you in 'just one bucket'
[8.30] How niching down can be really effective to stand out
[9.00] Dustin couldn't get any work when he first started
[9.50] Why your style can also be viewed as a memorable niche
[11.35] Showing your personality, becoming a real human person
[12.20] Why 'Bill drinking coffee' is better than how things used to be
[13.00] Why 'awards' often don't help you to stand out
[14.00] Seth Godin's Purple Cow theory
[15.30] Dustin's view of how Ian stands out
[16.20] Use your weird, remarkable work to bring people into your web
[17.20] Dustin's view of how Tom and Design Cuts stand out
[18.45] People can get intimidated about the pressure to be unique
[20.00] Standing out can pigeon hole you and limit you
[21.15] Ian drawing on objects got him great exposure
[22.00] Ian using magic in his work to make it stand out
[22.40] How mixing two mediums/skills can help you to stand out, by finding this overlap
[24.30] Being authentically yourself to stand out
[25.40] Dustin's friend does incredible, unique work
[27.00] People buy into the 'why' of what you do
[28.20] Would Apple stand out as much without Steve Jobs' history?
[29.00] Lisa doing lovely gestures for her clients, that fit with her personality
[30.15] The power of personal gestures
[31.00] Caring enough to be nice enough to stand out
[32.40] Why personal gestures are actually easier when your smaller
[33.20] Dustin's 'wow' experience dealing with Zappos
[34.10] Why personal gestures can be so much fun
[35.00] Ian writing out his customer's names after they buy something from him
[35.40] Reward your clients when they refer you
[36.50] Ian getting free donuts for a year from Krispy Kreme
[38.10] The power of word of mouth
[39.00] Experience can help you to stand out, but ensure you're staying relevant and up to date
[40.45] Why your passion for what you do will help you to stand out
[41.50] You need to demonstrate a real fire for what you're doing
[42.50] Ian's tip for a firm handshake
[44.00] Why following the 'hot new trend' is not the best way to stand out
[45.30] There are tons of ways to stand out, but the important thing is to implement them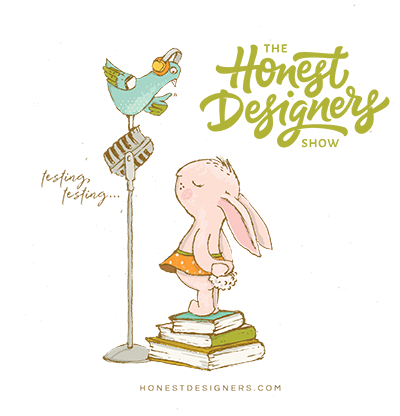 How you can help
As this is a new show, we'd really appreciate your help spreading the word. If you enjoyed listening and found value in this episode, you can do these two things to help us:
1. Subscribe to The Honest Designers Show in iTunes
2. Leave us an honest rating/review in iTunes
Early reviews can make the world of difference for new podcasts being discovered, and it would mean the world to us if you were able to help.
Click to listen to The Honest Designers Show on iTunes

Here is a quick guide for how to leave a review on iTunes
Want Help From the Honest Designers?
We would love to help you with your creative journey! Simply use #honestdesigners on social media, and the four of us would love to check out what you're working on, join the discussion and try to help wherever we can!
Join the discussion on Instagram
Join the discussion on Twitter
Let Us Know What You Think
We would absolutely love to know how you enjoyed this episode. We'll be releasing a new episode each Wednesday, and look forward to hopefully answering many of your questions on the show.