Having Payment/Checkout Issues? Please Follow the Instructions on This Page
For the bulk of payment issues we're emailed with, there are some simple and quick fixes. This page will walk you through how to complete your purchase successfully.
However, if you ever need to drop us an email, we'll always respond within 24 hours (usually much less than this).
"I've tried purchasing a deal, but I'm not sure if my purchase went through successfully."
Typical signs of your payment failing include:
The checkout screen going blank after you hit 'purchase'
Not receiving any confirmation email, or your items
Your card payment showing up as 'failed', or 'pending'
This is almost always down to bank/payment processor restrictions, which are put in place for your security. Banks are rightly very vigilant to fraud, and we have noticed some card providers being particularly careful when it comes to online transactions, especially as we're based in the UK, which for many of our audience constitutes a foreign transaction.
We recommend following these steps to easily confirm your purchase:
Step 1: Login to your account
Even if your payment has failed, this likely occurred after your account with us was setup. If you go to our login page, you should be able to login with the account details that you specified on the checkout page.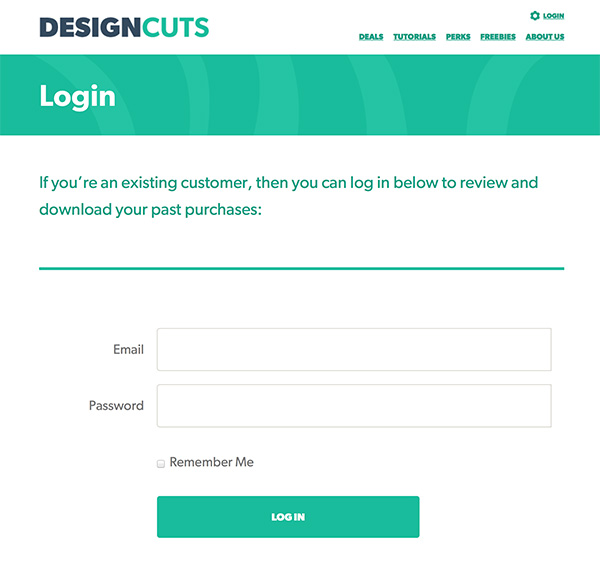 Step 2: Can you see your items?
After logging in successfully, you will find yourself on your account page.
(If you are unable to login, then please contact us, and we'll be able to manually setup your account for you.)
If your purchase was successful, you should find your new deal items here, under the heading 'download your products'.
If your purchase failed, this area will be empty (see below):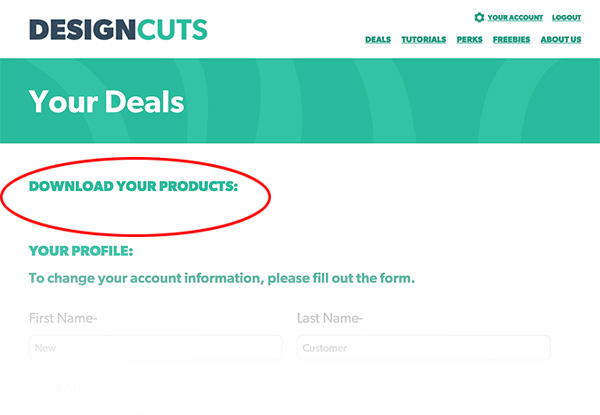 Step 3: Double check that your purchase has failed
Whilst it's almost certain that your purchase has failed at this point, it's good to double check this.
In Paypal you will be able to see that no payment went through.
If it was a card transaction, your payment will either be showing up as 'failed' or 'pending'. If it's 'pending' then this will always be reversed by your bank, and you won't be charged.
If it appears that your payment has definitely gone through, then please contact us and we can track down your payment and setup your items for you.
Step 4: Try Purchasing Your Deal Again
Once you have confirmed that your payment has failed, you can retry purchasing your deal.
Click on 'deal' in the top menu to return to the current deal page.
Ensure that you're still logged into your Design Cuts account, and in most cases, being logged in will ensure that you don't hit a checkout issue again. Again, after purchasing your items, login to your account to check if they are in your account page.
Step 5: Pay via card (using the Paypal checkout screen)
If you're still struggling to purchase the deal, even after logging in, then you are likely still encountering security measures by your bank.
A secure and effective way to ensure that your payment goes through, is to select 'Paypal' as your payment method at the Design Cuts checkout page.
This will take you to the Paypal checkout screen.
If you don't wish to pay via Paypal, you can pay without needing to setup a Paypal account, by selecting Pay with a debit or credit card.
This seems to work in every single case, and proves a great solution if you're having issues using your card on our main checkout page.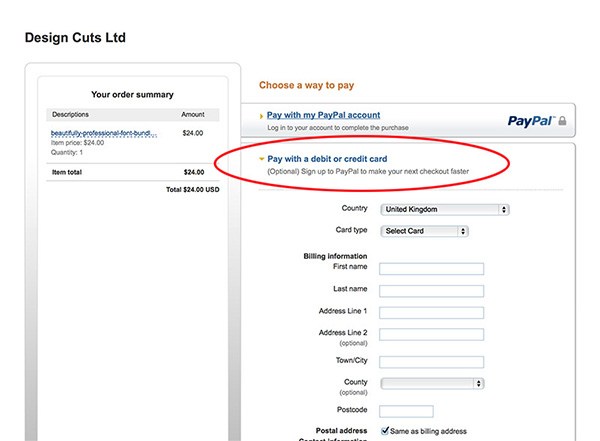 Still in need of assistance?
The instructions on this page are simply a helpful guide to help with 99% of payment issues that our community will ever encounter.
Of course if you're still in need of help, please drop us an email. We'll always respond within 24 hours (usually less), and will always work with you to resolve any issues.
Thanks,
Tom, Matt and Darren (The Design Cuts Team a.k.a the Creative Geeks).