You could create the best digital design product ever, but, if you don't tell people it's out there, and how awesome it is - it won't sell! The problem is, when you're first starting out, it's hard to reach your potential audience. Your brand won't have an audience of its own to market to, and it's far too easy to get lost in a sea of thousands of (often very low quality) design products.
That's why before you launch your product it's crucial to plan your marketing. When you're starting out this can be split into two main components; the first is to reach out to us to help us to launch the product for you - the second is to look at the steps you can take to help promote the product yourself.
Key Takeaway
You can market your products by selling them through marketplace sites such as Design Cuts, we actively promote your products to our community of 500,000 plus highly engaged designers. You can also promote your products to your own audience via social media, a website and email newsletter.
How Design Cuts Can Help
Once you've created your new, fantastic product, you want as many people from your target audience to know about it as possible! The easiest way to get to that audience initially is to sell your product through a marketplace like Design Cuts. We've spent years building a highly engaged community of all different types of designers, and regularly reach out to them to tell them about new and exciting products!
Like us, our community are very passionate about design! They live and breathe design, and, if you've followed all our articles and created a stunning product, it won't be hard to get them excited about it!
How We Showcase Great Products To Our Community
On Our Website
Unlike other marketplaces, we carefully collate all products and only let the best of the best in. This means we have fewer products listed, so, your products are far more likely to be found in searches as they won't get lost in a sea of low-quality products!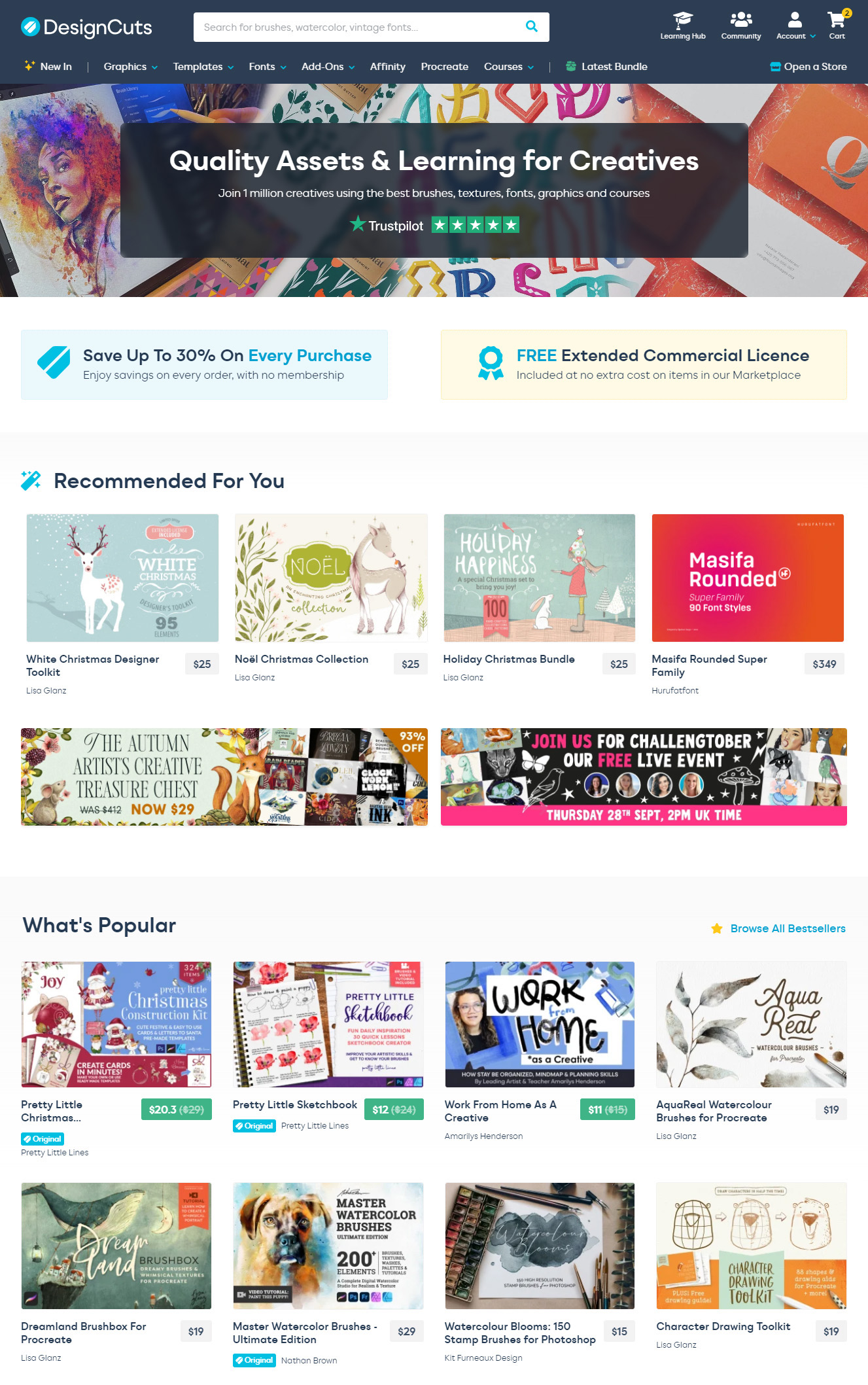 In Our Newsletter
Our weekly newsletter goes out to hundreds of thousands of designers, with content tailored what each community member is interested in. It shows our community new and exciting products and highlights any great new products which are available with us first.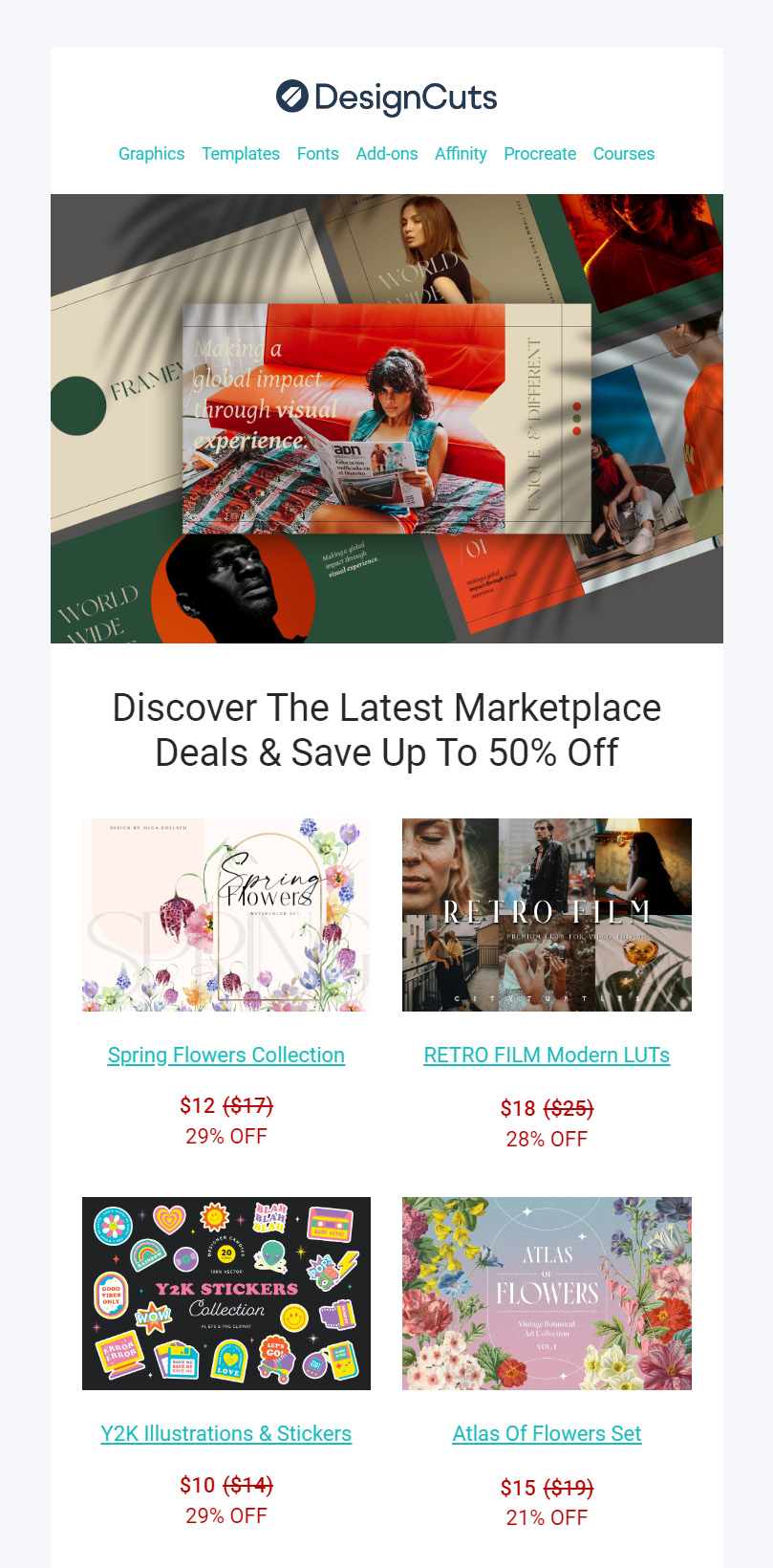 At Our Events
We regularly run huge events for our community to help them in their Design Journey, such as our annual online design conference Design Cuts Live. They feature some of the biggest names in design, attract hundreds of thousands of designers and are an excellent place for us to showcase the best new products to help them in their work.
As well as our annual event, we also run smaller monthly events which target specific design interests such as Procreate, where we interview industry leading designers and sell products which are targeted towards that specific interest.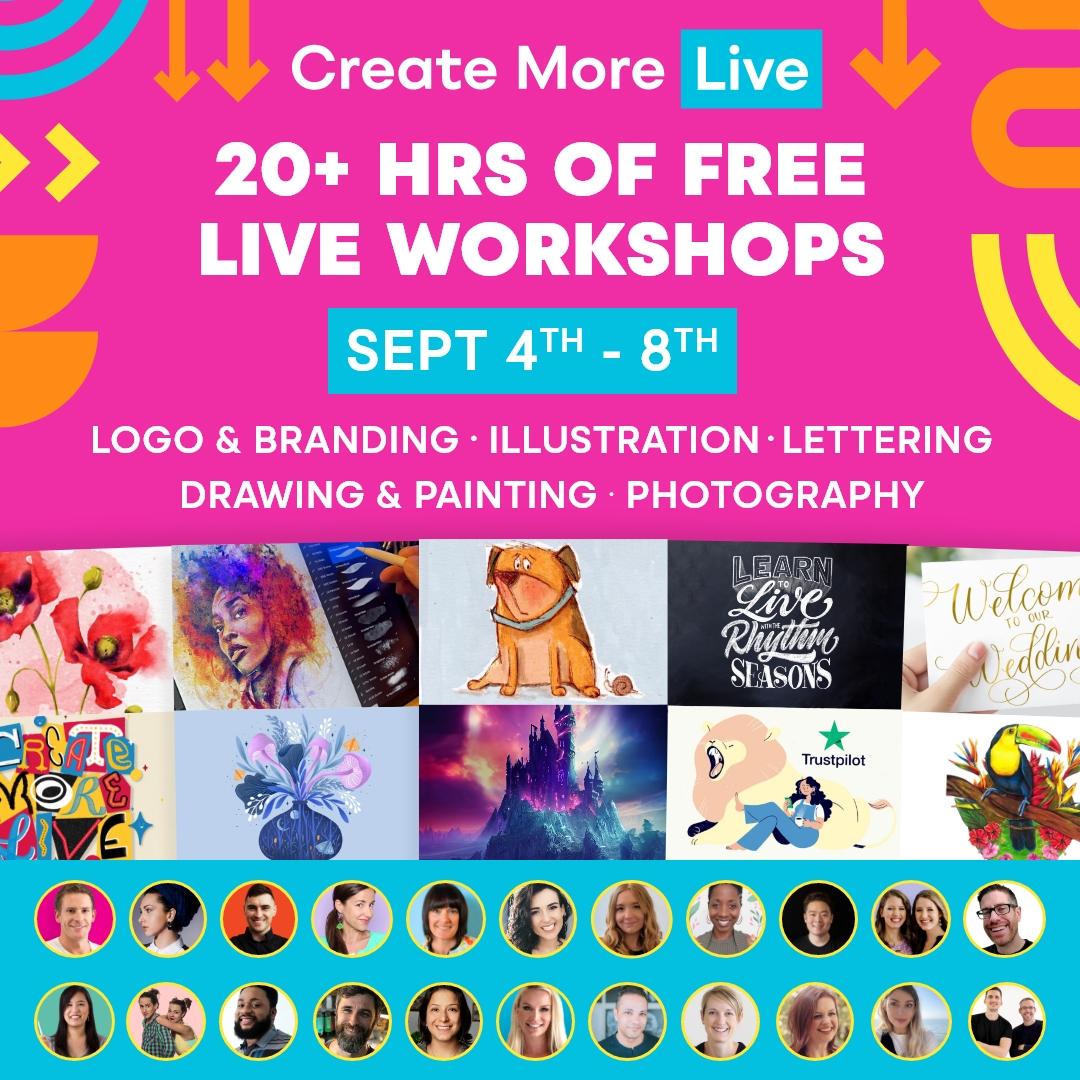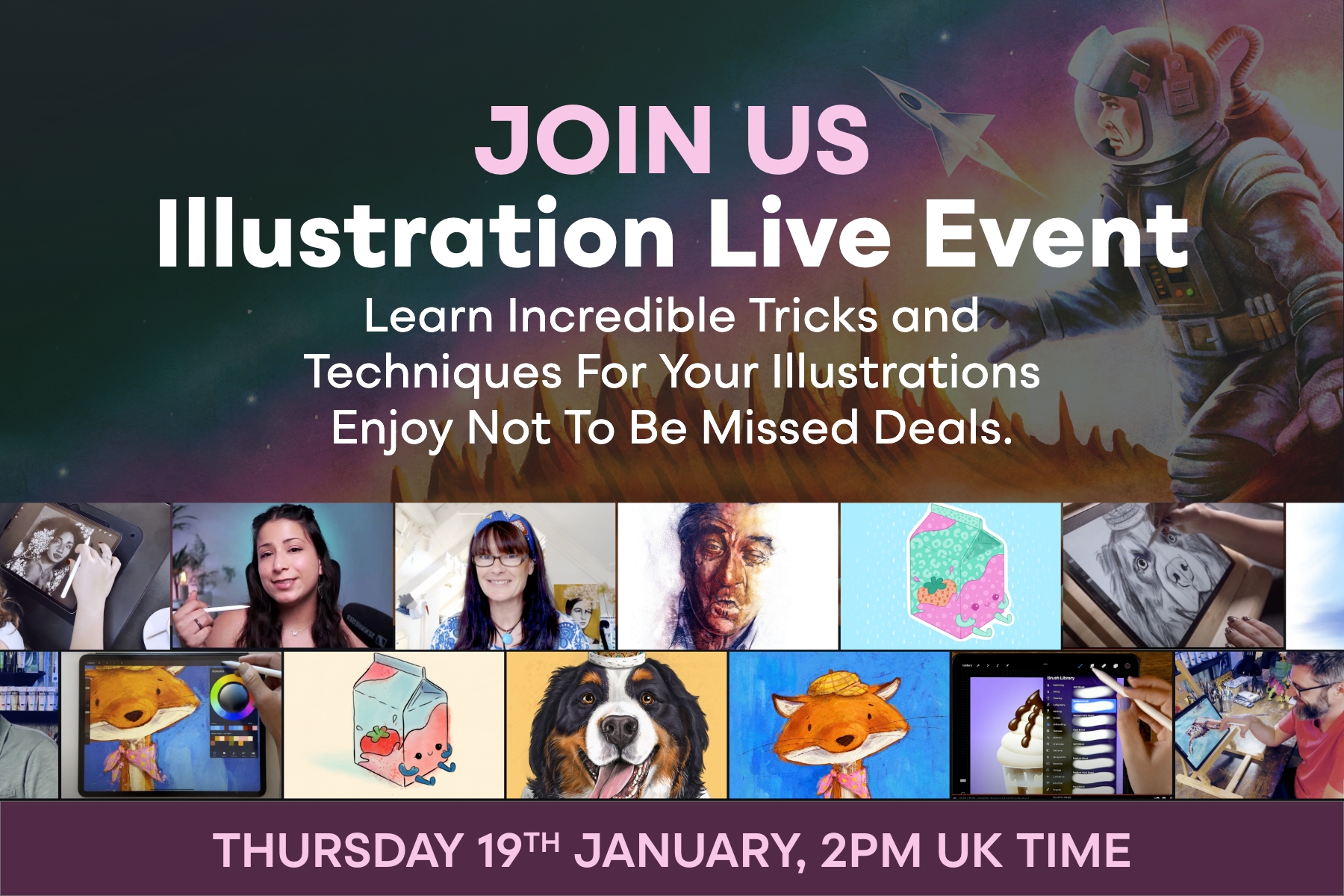 Via Our Hangouts
Our weekly online community hangout brings our community closer to designers. It gives designers an opportunity to give value to the community in terms of learning content, and show them new and useful products they may have recently released. All our hangouts are then available in our learning section and get lots of ongoing traffic from the search engines.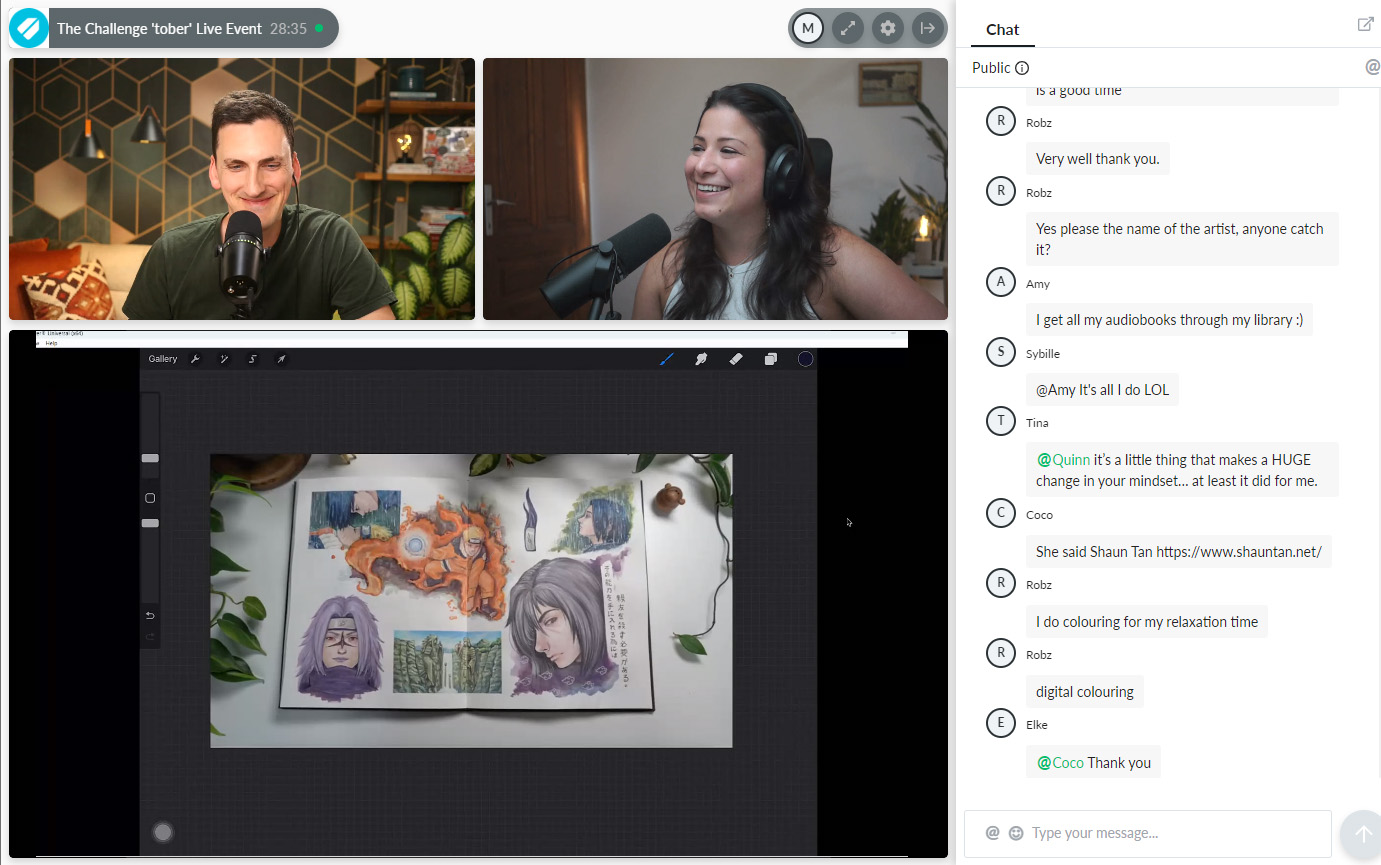 With Our Affiliates And Partners
Design Cuts are partnered with some of the biggest names in design. Including Affinity, The Futur and CreativeLive. As well as with hundreds of smaller highly respected affiliates in all the various design fields, who have large profiles and followings in social media and online. We regularly promote the products we sell, and highly targeted bundles of those products to their highly engaged audiences.
Through Our Bundles
As an option you can also be included in our bundles which promote our best of the best products to our community. These highly-targeted bundles reach a lower budget audience, and are a fantastic way of promoting your brand and extending the life of your product.
One thing we are often asked is do Design Cuts require you to sell exclusively with us? The answer to that is absolutely not. We understand that you want to sell through lots of platforms. However, if you launch your products through us first there is more we can do to help promote your product.
If you've created a great product, or already have a shop full of fantastic products you'd like to promote to our community, we'd love to hear from you!
How You Can Market Your Own Products
If you really want to commit to your digital product design career, it's well worth building up your own highly engaged community to market your products to. This isn't a quick process, but, if you're looking to sell digital design products for years to come, it's very much worthwhile. The longer you wait to get started, the longer it will take - so, let's get started!
Steps To Market Your Products
Create Your Brand
If you've already read our article on creating your brand you'll know it's incredibly important to create a brand to market your digital products through. If you havn't read it, jump in now and take a look!

Build Brand Recognition And Equity Via Social Media
Get out there on all the main platforms, Instagram, Facebook, Twitter etc, and regularly post interesting and engaging content about your products. Tease them with new product releases, give them small glimpses of what's coming!
Remember though, give something back to your community - don't just try to sell to them! If there are interesting informative tips and tricks you've learned over the years in your design field share them too! If your community have questions answer them, communicate with them. It's far easier to sell to your audience if they know and trust you. After all, wouldn't you rather buy something off someone you know and like, than someone you don't really know? Ask them questions, find out what they want in your new products - there's no need to guess if you have your own community of loyal designers who want to share the information with you!

Create a website
If you really want to give your brand identity you'll need your own website, most established brands have one, and if you create a nice one it'll give your credibility a big boost.
You can start small with one of the website building services such as Squarespace, by customising one of their own pre-built templates. And use it initially to:
Market Your Brand
Tell people more about you and your brand (based on the information you collected in your brand definition)
Build Recognition And Make A Connection
Make a personal connection with your audience through your tone of voice and messaging (using the audience definition document as a guide)
Market Your Products
Tell people more about your products and what makes the way you create them special and unique
Build Brand Equity And Loyalty
Show lots of great case studies and testimonials about you and your products (this helps to build that all-important 'brand equity' and loyalty which will help sell your products!)
Then at a later date, you may want to build it in a more fully-featured platform such as WordPress and use it to:
Build An Email List
You can do this by creating a 'lead magnet' this is a package of valuable free products which you give away in exchange for signing up to your email list. Then use Mailchimp or similar to manage the list and send out emails. A fantastic example of this can be seen on Lisa Glanz's site https://www.lisaglanz.com/. Once you've built a small list as with social, make sure you send out regular content to a schedule - people like to know when to expect a newsletter! As with social you can tell people about your new and exciting products, but, don't just try to sell to them! Share knowledge and more freebies with them. The more value they get, the more engaged they'll be and the more likely they will be to buy your products when you do tell them about them.
Talk (Also Known In The Industry As PR!)
Not the easiest one for us designers to do I know, many of us, including me, are more comfortable hiding behind our huge monitor making things look nice. But, it's really important to get out there - you are your brand. The more people who know about your products, about what makes them, and your brand special, the more likely you are to make sales and make your dream of turning your side hustle of creating digital products, into a highly profitable career!


Marketing Plan Action List
Reach out to Marketplaces such as Design Cuts to help sell your new product.

Market your products via your own:

Social media.

Website.

Email Newsletter.

Communicate on forums and blogs to raise your profile.

Once your brand is well-established reach out via community hangouts such as the one hosted by Design Cuts.
About The Author
Matt Slightam is Co-founder and creative director at Design Cuts. He's creatively directed some of the biggest digital design products on the market - working with many leading designers such as Shoutbam, Trailhead, Latino Type, Pretty Little Lines, ROHH, Julia Dreams and many more.
Matt puts out regular useful content to help designers via Instagram, and can be found at @mattslightam