Happy 2014 Design Cutters!
I hope that you had a fantastic holiday period and spent some quality time with friends and family. I know that we certainly did!
After a fantastic first 3 months, I wanted to give a quick recap and let you know what we've got in store for you this year.
First of all, a huge thank you for genuinely being the best community I've seen online. The daily emails, tweets and comments we receive certainly make the long hours more than worthwhile. It's amazing to see the incredible talent and creative diversity in our audience, as you may have seen in our community creations series.
It's also nice that we can be comfortable enough with you guys to be as ridiculous as we were in our official Christmas video. (Check it out if you have't seen it yet, and enjoy the freebies included).
Many of you seem to get value from every deal and tutorial we put out, and it's so encouraging to know that what we're putting out is helping you and your work.
In fact, after recently crossing $750,000 in community savings, we look set to smash the big $1 million mark this month. Look out for another monster giveaway to celebrate and let us give back to the Design Cuts community.
Here are some of our favourite memories from our first few months: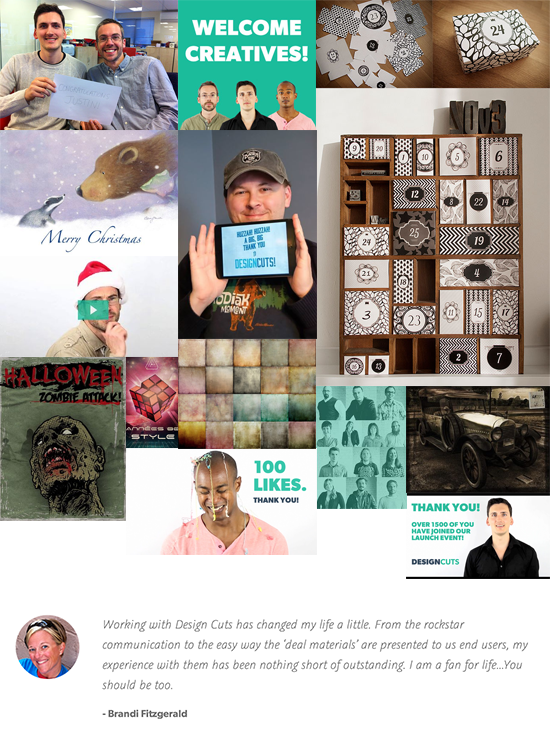 In terms of our plans for 2014, I don't want to share everything, as we hope some of our upcoming features will be a lovely surprise for you.
However, after listening intently to your feedback, here are some upcoming plans for Design Cuts:
A much requested archive for past tutorials is coming soon. This will let you easily browse all of our tutorials from past deals.
We're planning out some great new ways for you to share your work with us, and for us to give you exposure to the Design Cuts community. Stay tuned on this one.
We're listening carefully to which deals will help you the most, and have some crackers lined up for the next few months. Our current Ultimate Creative Font Bundle deal is already proving one of our most popular ever.
We're looking at setting up some very special live events, where you'll be able to tune in for further training and fun community stuff.
If you haven't yet approached us, then please email anytime, as we love chatting with each and every one of you. Your feedback helps us shape Design Cuts, and we make a note of every email.
We hope you love what we have in store for 2014, and we hope you'll use this year to take your design work to the next level.
– Tom, Matt and Darren (The Design Cuts Team a.k.a The Creative Geeks).