As a designer, your portfolio can be one of the most powerful tools at your disposal. In this article, we're going to share 6 easy actionable steps that you can take today to build a high-converting graphic design portfolio.
Many designers are disappointed with their portfolio — always wishing it were more than it is and looking for graphic design portfolio inspiration on a regular basis.
It's my belief that most of us designers have it a bit backward. We see portfolios as a place to show off our best work, to brand ourselves, to show the world who we are. While that may be one small part of why you should have a design portfolio, in all reality, the #1 reason every designer should have an online portfolio is to bring in new business.
However, in my experience working with freelance designers for over a decade, most designers don't actually use their portfolio effectively as a sales generation tool.
My advice comes from over a decade of running my own solo business, working at multiple marketing and sales jobs, and coaching hundreds of freelancers on building a more reliable stream of clients.
Also, you can catch a live conversation and a few portfolio critiques in my recent Design Cuts Community Hangout Call.
So today, I'd like to share some of my best advice for turning your beautiful but maybe non-converting portfolio into a lead generation machine. Let's dig in!
1. Start with a minimum-viable portfolio
As a designer, it can be very tempting to go overboard with your portfolio, which often leads to never updating your portfolio or not making one in the first place because it feels far too overwhelming.
Instead, take a page from the start-up world and focus on a minimum-viable portfolio.
The term "minimum-viable" simply means you should strive to answer this question: "what is the least I can do to prove my portfolio can generate sales?"
If that means starting with a Squarespace site instead of a custom-coding one, then start there. If it means including 2-3 projects instead of the 10-15 you want (which I wouldn't recommend anyway), then do that.
Maybe building a minimum-viable portfolio means you put up one page instead of many more or just have a link to email you instead of a custom form. Whatever it means to you, do that.
The idea is simply to complete it and start testing. You can always add more later, but having something is better than nothing.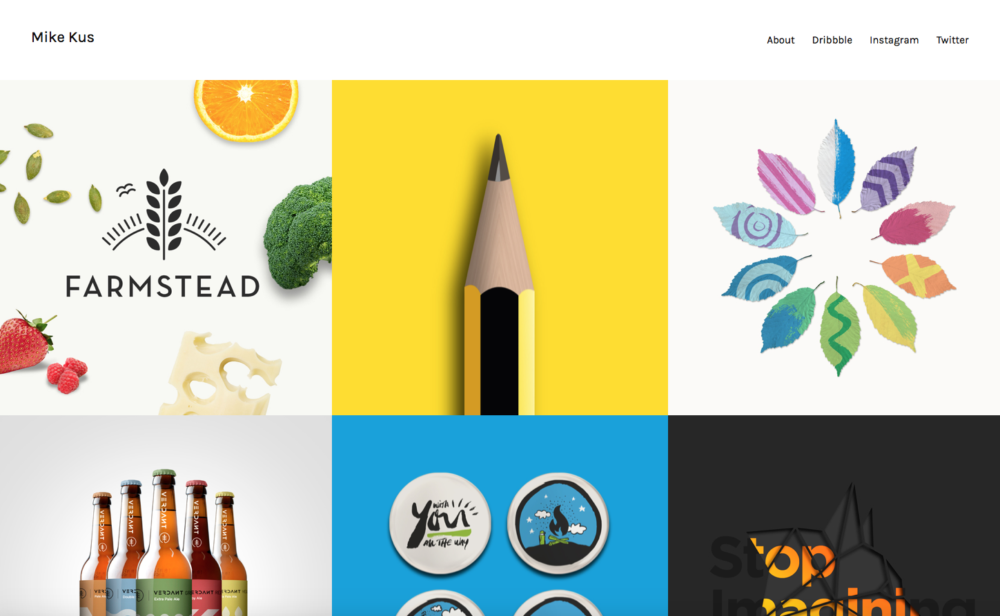 A wall of graphic portfolio examples by Mike Kus.
2. Use your portfolio as a sales tool
Above all else, you have to remember that your portfolio is a sales tool. It's not just a place to post beautiful images of the work that you've completed in the past. You can use Instagram, Behance, Dribbble or any other services available to post your work.
Use your portfolio instead as a place to really sell visitors on why they should hire you as a designer, how you can best solve their problems and what makes you the right choice.
A good way to start is by focusing completely on the client, instead of on yourself. That can mean changing sentences like "I'm a graphic designer who focuses on package design" to "Enhance your brand and sell more with vibrantly designed product packaging."
See how it's not about you as the designer? Instead, it's about the problems you'll solve for your clients.
The best way to show your clients you understand the issues they face is by answering their "why"—which brings me to my next tip.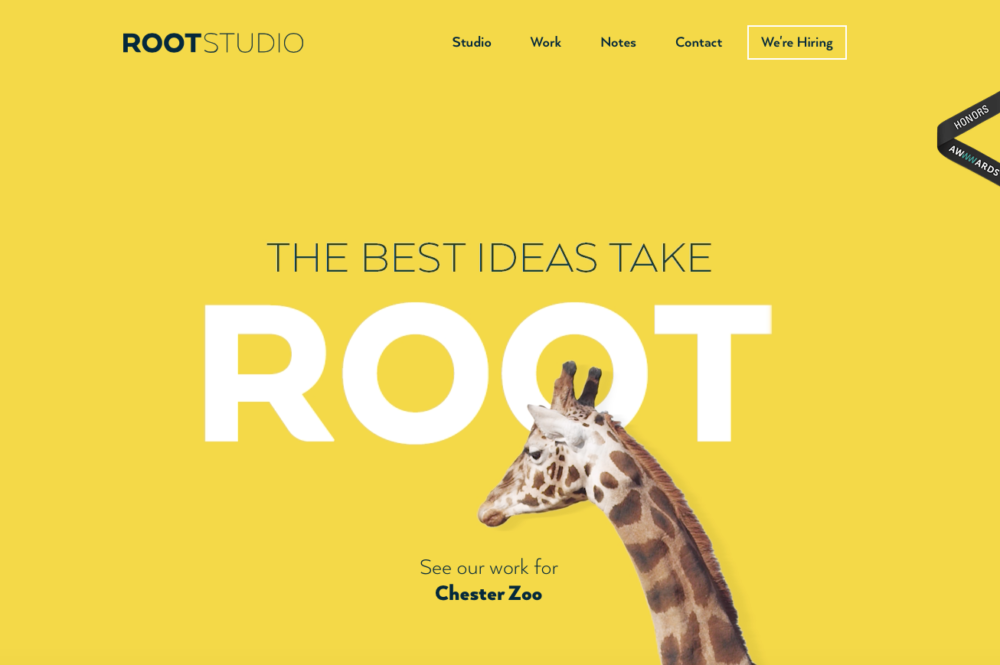 Bold colours and easy to read layout by Root Studio.
3. Answer your client's "why"
It can be helpful, when designing your portfolio, to imagine you're sitting in a room with a client having a conversation over a cup of coffee instead of being absent while they peruse your website.
In a face-to-face conversation, you might ask a question like: "Why are you hiring a graphic designer?"
To which the client might say something like: "We really need someone to design social media content on a regular basis."
That's a good start. But keep in mind, that's not actually why they're hiring a designer.
By asking more probing questions and digging deeper on a client's "why", you'll uncover the real problems they face.
More than just needing daily social media content, they actually need a boost in sales. Or they need more free time to tackle more strategic efforts. Or (most likely) both…and then some.
Addressing these concerns allows you to write copy on your website (or in your videos) that addresses the true "why"s your clients have.
Instead of your site saying "I design social media images for clients" it might say something far more powerful like "Free up your design time, get back to strategy, and grow your business."
It can be a powerful shift.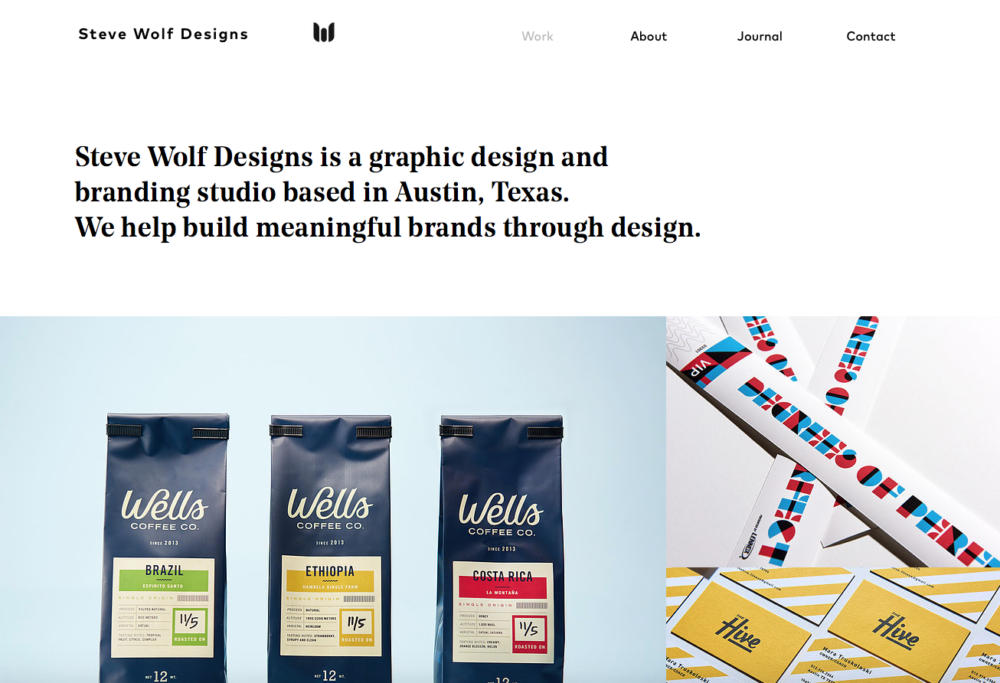 A simple design featuring their best work by Steve Wolf Designs.
4. Build customer journeys that lead to new clients
Once you've hooked a potential client with some interesting why-focused copy addressing their true pain points, it's your job to lead your visitors on a journey that ultimately convinces them to hire you.
This journey should involve:
empathizing with them
showing them how you're uniquely qualified to solve their problems
assuring them you know what you're doing
encouraging them to act
These can be accomplished through powerful (but short):
case studies
intriguing human copywriting
powerful calls-to-action
If you're building a one-page portfolio, consider thoughtfully the order in which you present each section of content.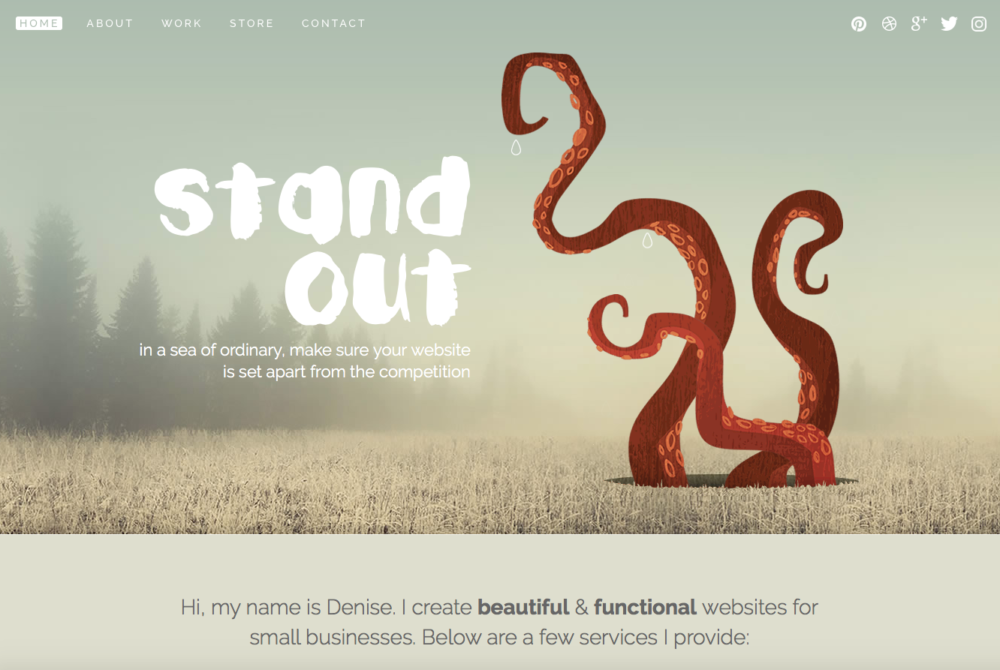 Using the right colour palettes to stand out by Denise Chandler.
If you're building a multiple-page portfolio, consider any and all paths a customer can take through your website and use linking and good copy to entice them to follow a path that leads to conversion.
To better control a user's path, here are a few actionable pieces of advice:
Remove any dead-ends
Any page on your website that does not have a way for visitors to continue on their journey is known as a dead-end.
Faced with a dead-end, you increase the likelihood that users will click away from the site, close the window, or feel frustrated as they hit the back button and try to figure out what to do next.
Reduce or remove "off-ramps"
As much as I don't like the idea of starting a paragraph with a definition, I was thrilled when I looked up the exact definition of an off-ramp:
"a one-way road leading off a main highway."
Why did I love this so much? It's the perfect analogy. Off-ramps on your website take visitors "one-way" off your site and the likelihood they'll return is practically zero.
So, what are some common off-ramps in graphic design portfolios? There are obvious ones like links to other content or click-away ads. But what about social media buttons, email links, starting your own blog on the same domain or links to client work found around the web? Can't these all help?
While there might be an argument for some of these links, I maintain you should remove as many links from your portfolio as possible.
Even sending a potential client to Instagram in order to highlight your most recent work is a huge risk. Sites/apps like Instagram are designed (with millions of dollars behind them) to keep users on their site. Instead, try to keep your users on your own site as long as possible.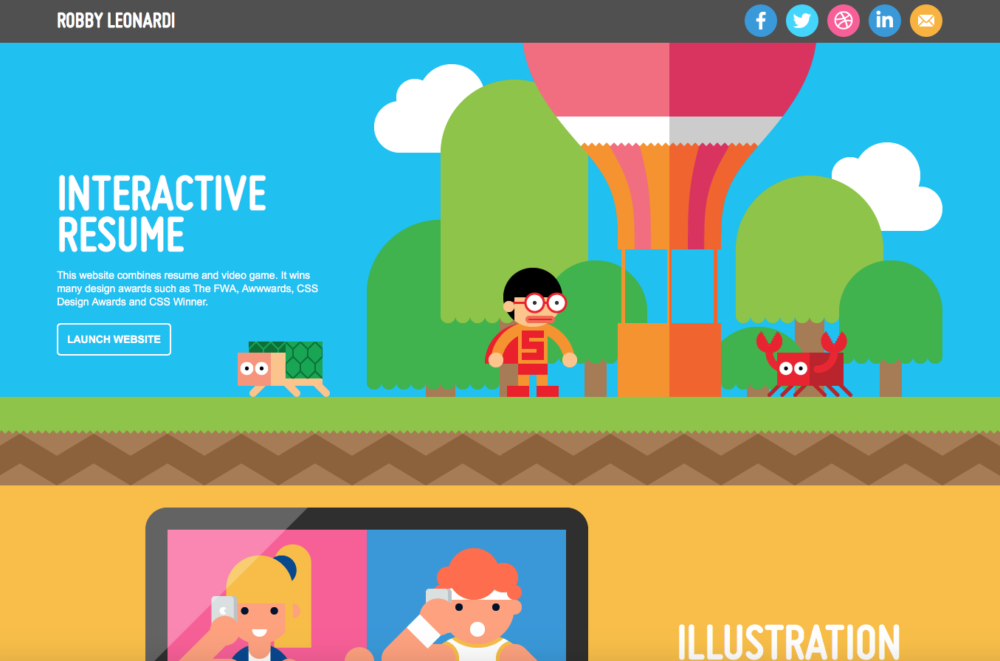 A fun interactive resume by Robby Leonardi.
5. Get your site visitors to act (and become clients)
Finally, every decision you make about your portfolio should be centred around one thing: getting your site visitors to take action. More specifically: getting them to take action toward hiring you.
That means every page, every case study, every button, every link should all point toward that goal.
The next step might be to hire you and pay for your services on the spot.
book a consultation phone call with you (where you personally close the deal)
fill out a simple contact form which puts them through a sort of onboarding sequence
Whatever you decide is best for your design business, be relentless in pushing toward that goal.
Don't forget to make it easy for clients to take action, too.
Twenty-question forms that "pre-qualify" clients are completely unnecessary until your site is bringing in far more business than you can possibly handle. Phone numbers that aren't clickable on mobile devices reduce your chances enormously.
Email links that open up Gmail or the user's default email app (another distracting off-ramp) raise the barrier of difficulty and reduce your chances of contact.
With every possible action a user can take, ask yourself: "how can I make this easier to accomplish?"
6. Take it one step at a time
The idea of completely revamping your portfolio or building one from scratch that's perfect from day one can be extremely discouraging.
Hopefully, the advice I've offered above is motivating and helpful, not discouraging or daunting.
If you feel overwhelmed, take comfort. This is a process. You don't have to get it completely right today—or even this week or month.
Make one small change today, then one next week. And bit by bit, you'll find your portfolio has gone from a shiny beautiful work of art to a shiny beautiful work of art that brings in reliable new business every month. Good luck!
Have a look at the resources below to find more about how to get the most of your design portfolio:
---
This article was contributed by Preston Lee, the founder of Millo.
Chat with Preston and thousands of fellow freelancers in their free Millo Mastermind Group on Facebook.