Today we're thrilled to bring you our second community spotlight feature. We're showcasing the talents of Design Cuts community member Ingrid Pomeroy; a fantastic vintage digital artist based in California.
Ingrid rocks, and we've loved getting to know her over the past few months. We hope that her work inspires you, and that her story shows you how much you can achieve with some creativity and dedication.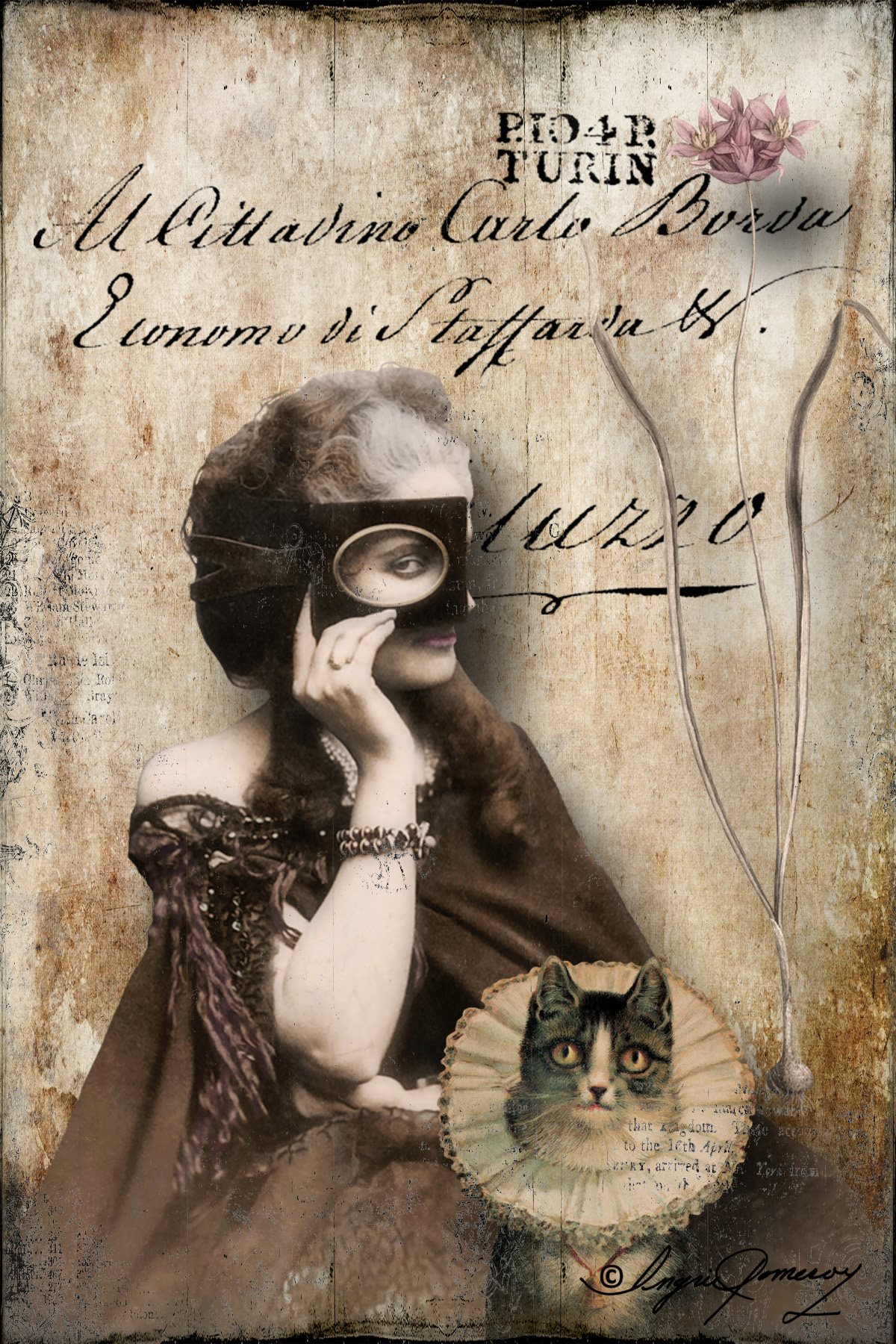 Chatting With Ingrid
We wanted you guys to get to know Ingrid better, and we hope that her story inspires your own creative work.
DESIGN CUTS: You have a real penchant for great vintage style design, particularly in your collage work. What advice would you give to all those in the DC community looking to improve their vintage designs? Any tips/tricks that help you in your work?
INGRID: I love anything vintage and old. I have been collecting photos, postcards and ephemera from the late 1800s and early 1900s, including the Victorian and Edwardian era. The Renaissance and Elizabethan eras are also favorites. I scan my photos and postcards to use in my digital art. Other ways of finding vintage images is through websites that sell digital elements and kits. I have some favorites that I refer to on a regular basis: Scrapbookgraphics and Deviant Scrap. If there is a particular subject that you are interested in, you will most likely find it on the many websites that are available for digital creatives.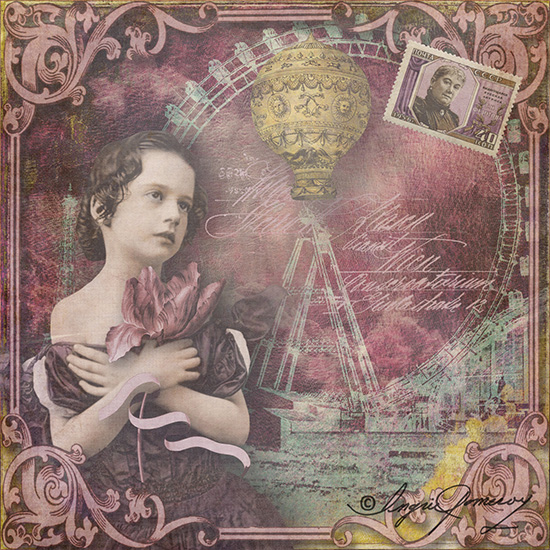 DESIGN CUTS: As designers we all want to get more eyeballs on our work. How do you focus on getting your work out there more?
INGRID: Approximately five years ago, I started playing around with digital art. I have never been computer savvy and wasn't sure I could do it. A friend taught me the basics on Printshop. I picked it up easily and decided to submit some of my images to "Somerset Digital Studio" after I saw the premier issue. My submissions were accepted and there was no turning back! When I look back at my first submissions, they look so simple compared to what I create now. I now use Photoshop Elements 11 and feel that this program is perfect for my needs. I have lost count of how many issues I have been featured in over the years.
I also started selling my greeting cards on my online Etsy shop, and as a result, I have developed a following from all over the world. My cards are also being sold to shops in Northern California. The Oregon Shakespeare Festival in Ashland, Oregon, sells my Shakespearean-themed cards.
Some of my favorite shops sell my work. I have made many special friends that own these shops and they have asked to sell my cards. I have also been commissioned to do design work for businesses, such as business cards, postcards and other advertising.
Some of Ingrid's work featured in Somerset Digital Studio magazine: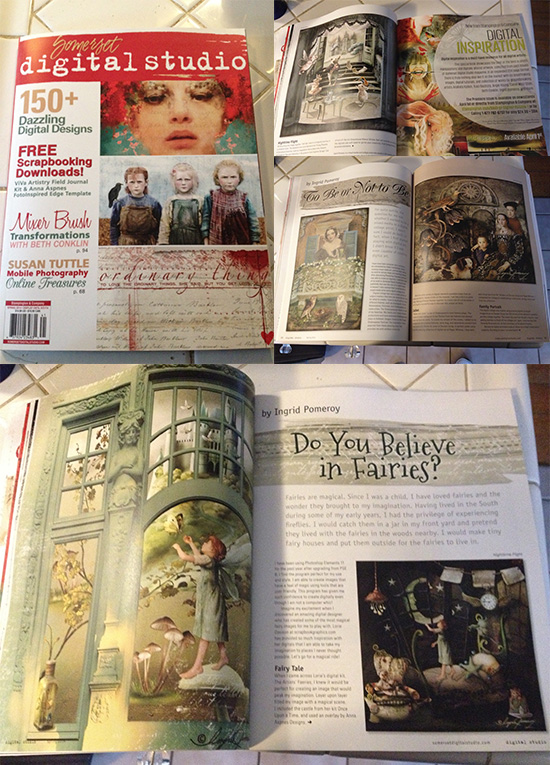 DESIGN CUTS: Could you talk us through how Design Cuts resources have helped your work? We always stress how important it is that people use the resources they purchase, rather than letting them go to waste. We'd love to get some insight as to how you're using them in your regular work.
INGRID: I have purchased the Texture and Vintage collections and am amazed how your digitals have changed my way of creating. I love how the textures have softened my collages when I add them as my final layer. What amazes me is that I always find a texture that matches the colors I am using in my piece, whether it is a background or overlay. The textures also give my image a vintage and softness that I feel is perfect for the look I am trying to achieve. It wasn't until I purchased the textures that I realized how much better I think my art looks. I just purchased the new "All New Textures" and can't wait to play with them!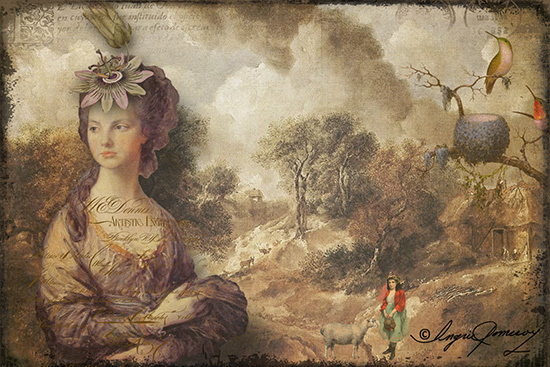 DESIGN CUTS: Any words of motivation or inspiration for the DC community that you'd like to share?
INGRID: I will have to say that the people in my life; family, friends, mentors, customers who buy my work, other digital artists and designers, are the kindred spirits that keep me motivated to create digital art. I am inspired by going on walks and taking photos of beautiful flowers or something that looks interesting that I might be able to use in my art. I have seen the beauty in an old building or window, moss-covered angel statue, or anything that catches my eye. The possibilities are endless for inspiration. I will never run out of ideas because the world provides me with an amazing wealth of subjects.
Where to Find Ingrid on the Web
Thanks so much to Ingrid for chatting with us today! We definitely recommend checking out her design work. You can find more of her awesome work on her Etsy store:
If you have any questions for Ingrid, or want to show you support, we'd love to hear from you in the comments below.